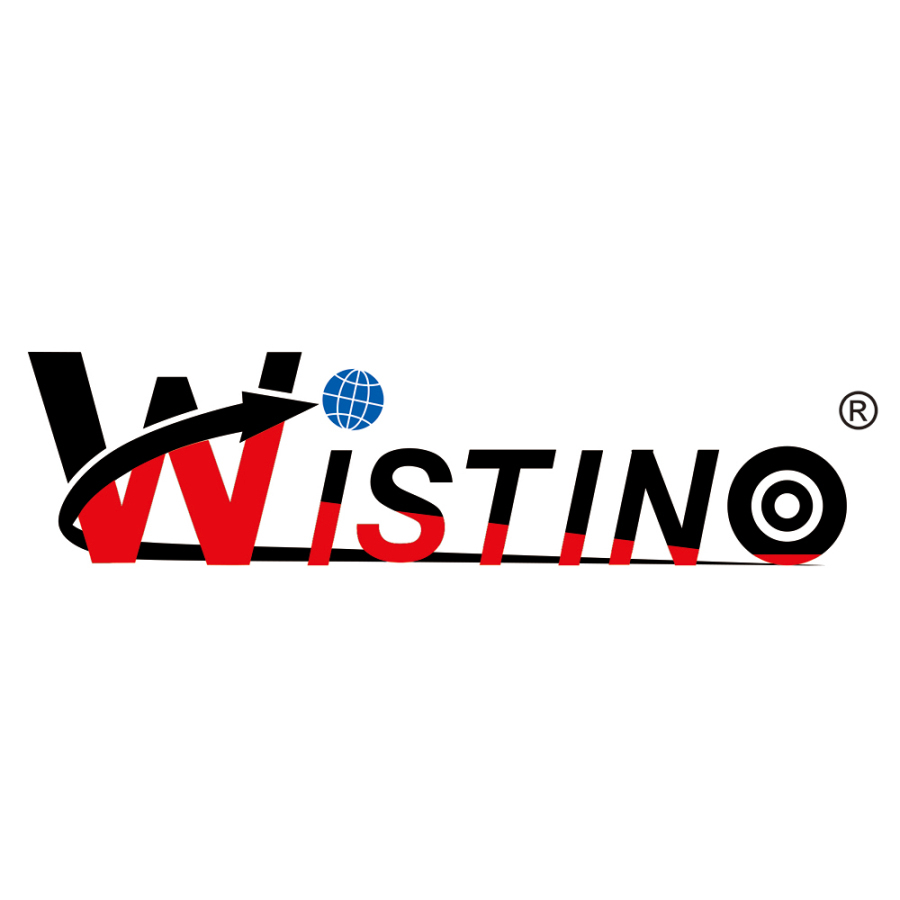 Wistino
Wistino CCTV Waterproof Radar Sensor Solar Camera 1080P Wi-Fi / 4G Two Way Audio Motion Detection Built-in 4 Batteries
1. APP: MYCAM
2. WIFI/4G Optional
3. No Need power and no need wire
4. Monitoring + lighting, dual use
5. Camera have wifi(AP Mode)/Connect with your home 2.4G wifi/4G simcard version
6. 1080P HD Quality&Clear Night Vision/2Way Audio/Up to 128GB memory card support/Night vision lighting
7. Easy to use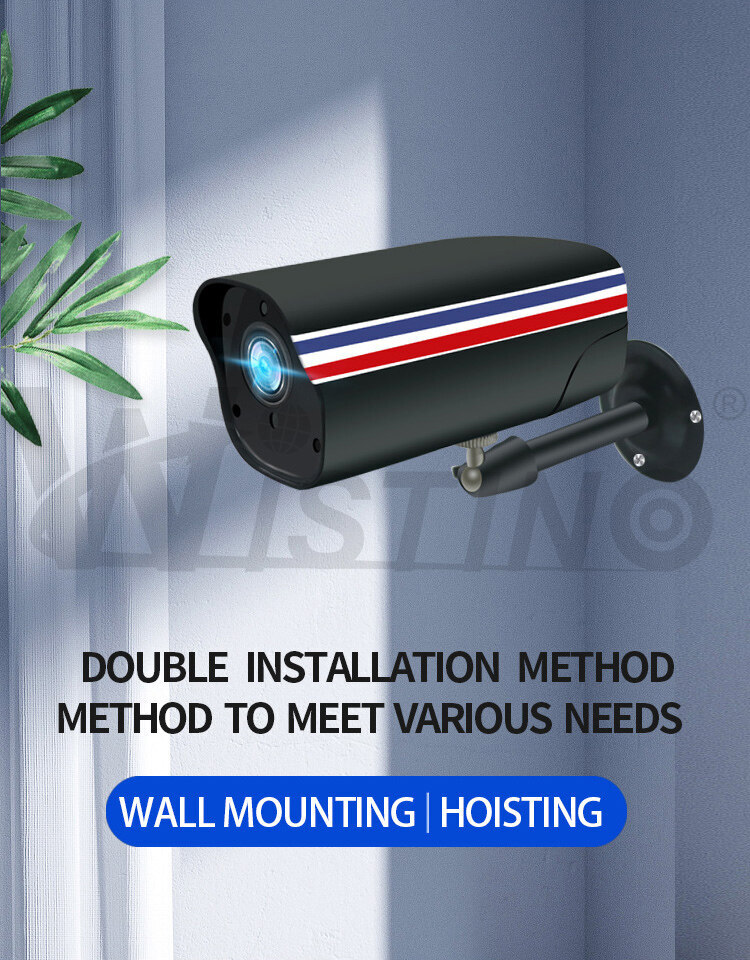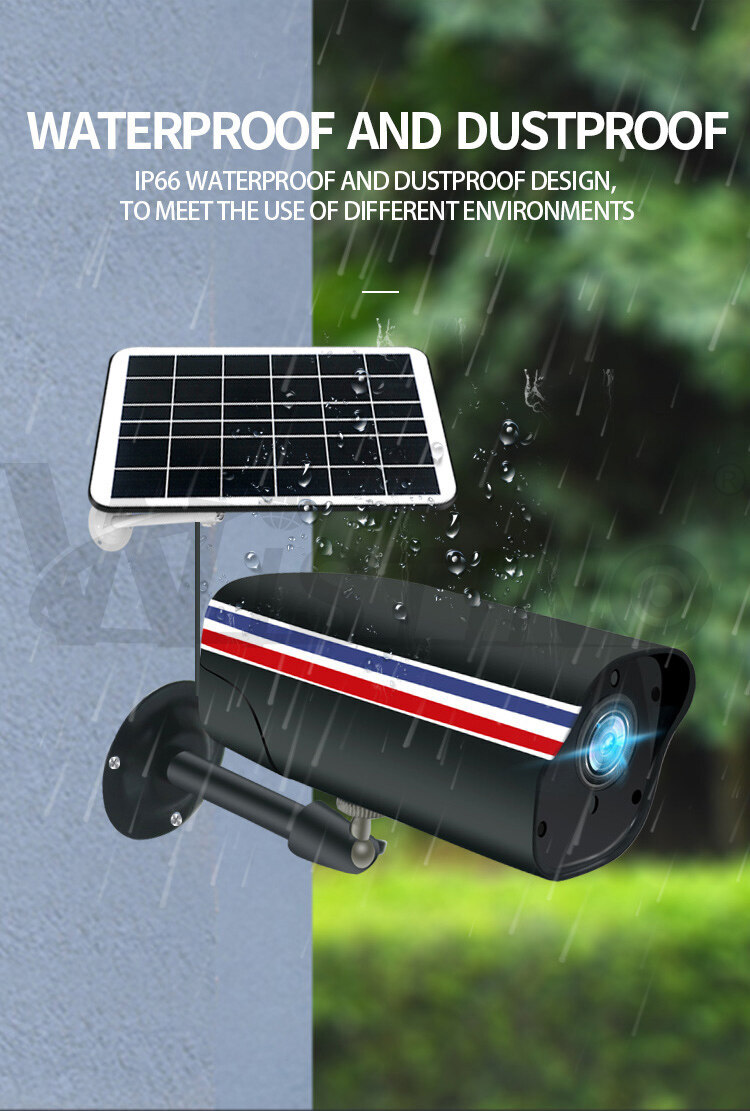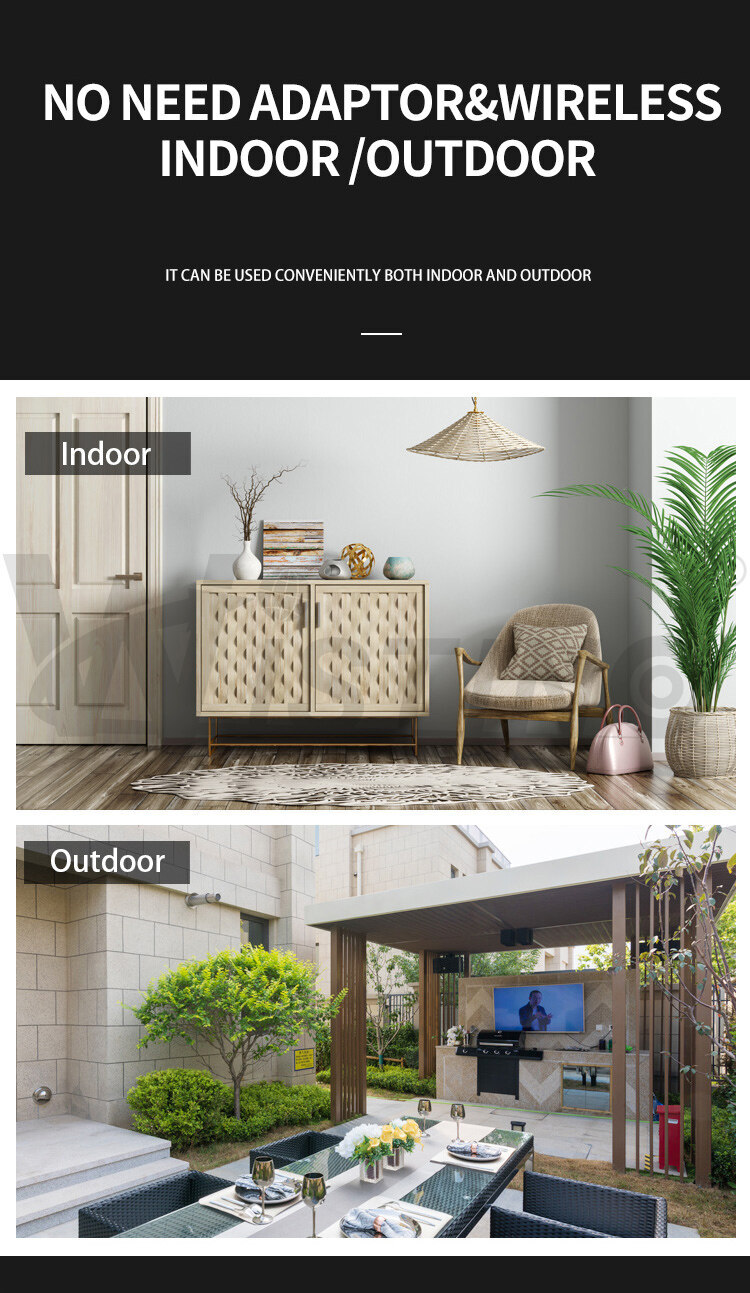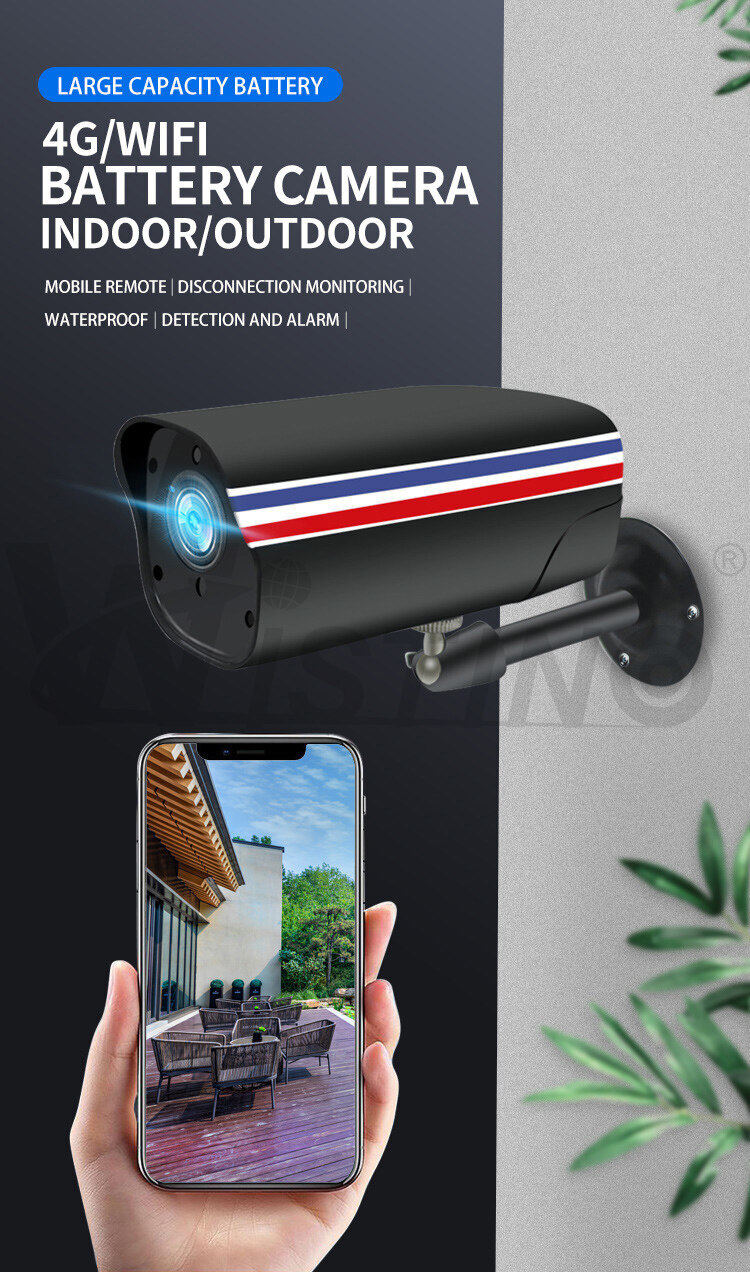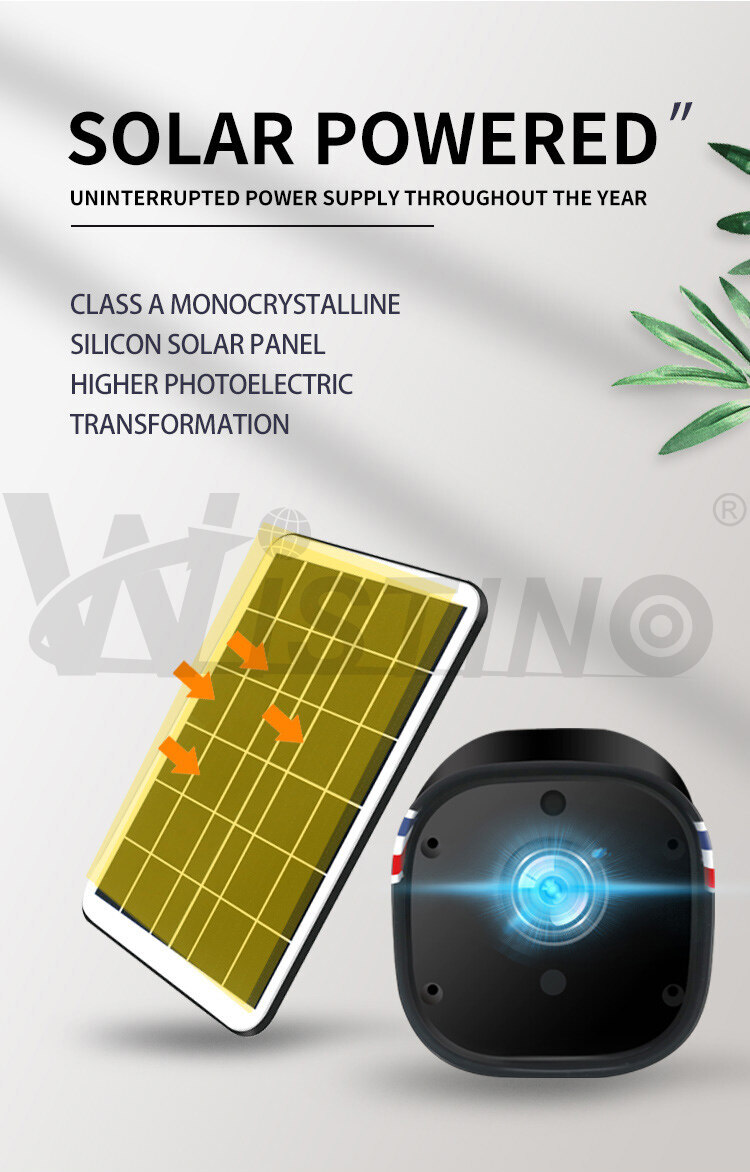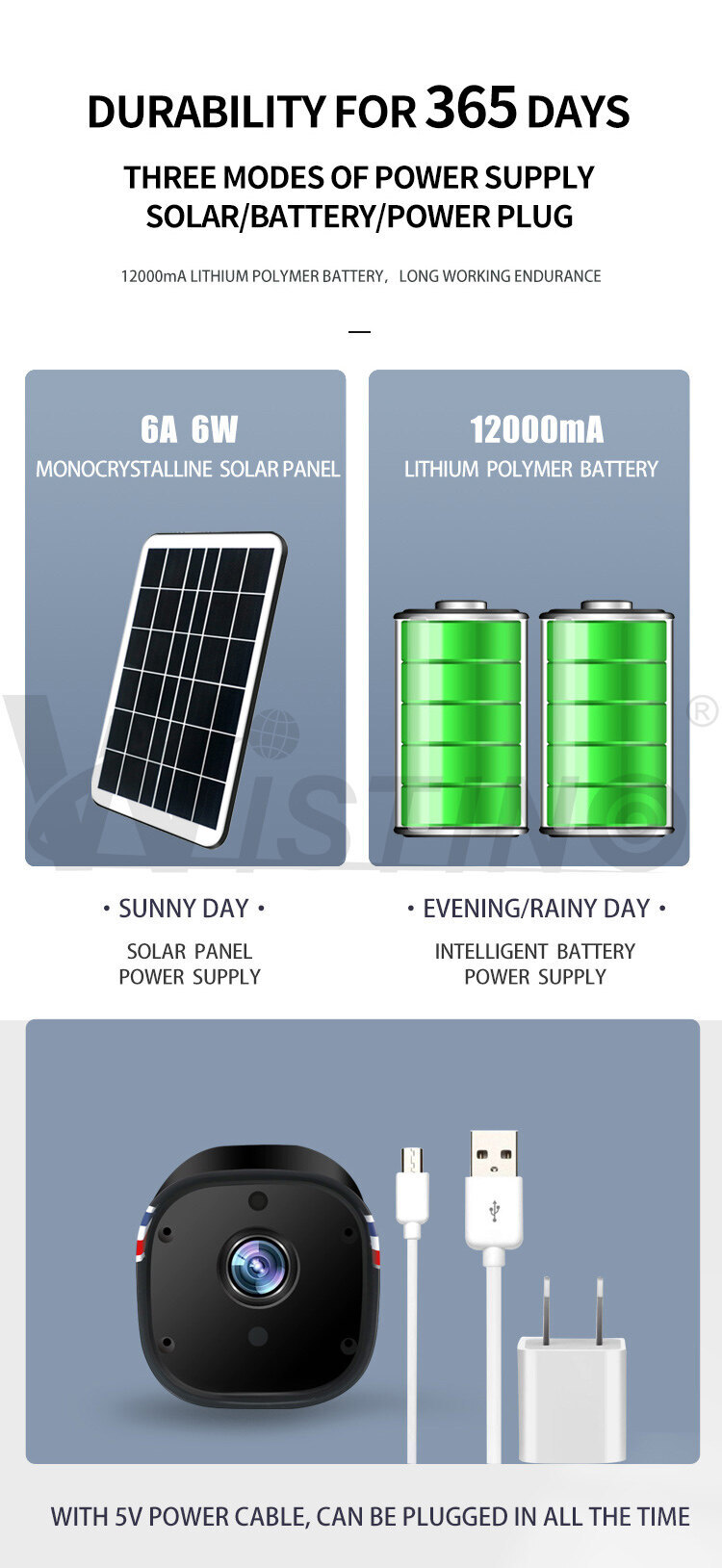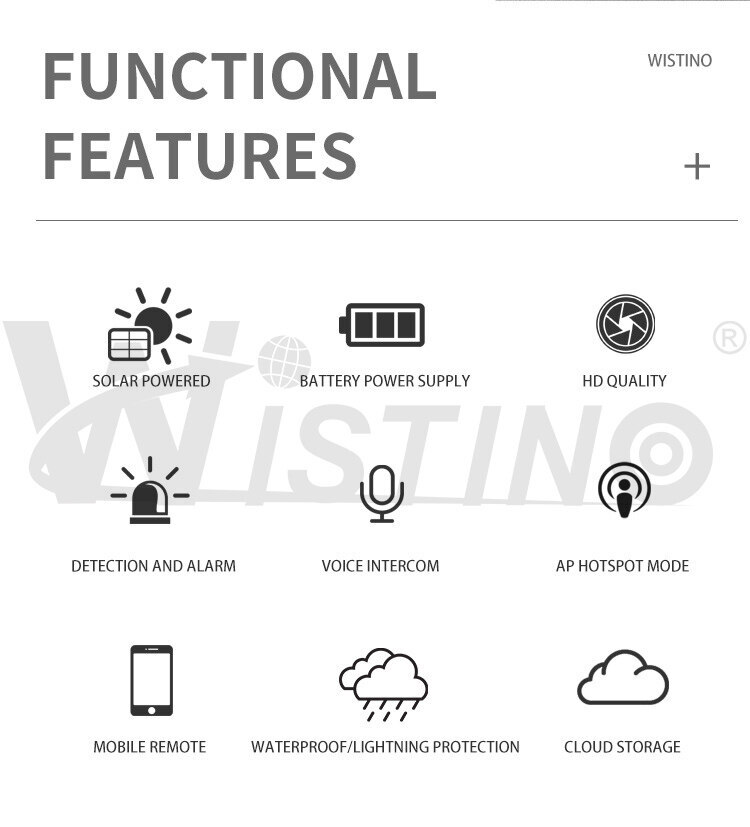 Specifications
Brand

Wistino

Megapixels

2

Security Camera Style

Bullet

Recorder Channel Capacity

4 channel

Security Camera Features

Indoor,Wireless,Infrared Night Vision

Model

SOLAR-BK-15.6

Warranty Type

International Manufacturer Warranty

Warranty Period

1 Year
What's in the box
1.Camera*1SETbr/ 2.WISTINO Aftersales card*1br/ 3.Manual*1
Recent Reviews ( 29 )
By
L***e
Monday, 11 July 2022
Purchase this solar power outdoor security camera for our condo. We installed it at driveway and guest parking area because we found some teenagers will hide in there smoke weed. With this outdoor security camera, we can do two way talk if we saw someone and ask them to leave our property.
By
J*****w X***a
Sunday, 10 July 2022
ฉันได้กล้องโซลาร์เซลล์นี้สำหรับไก่วิ่ง ฉันอยากดูมันหากฉันต้องออกไปนอกเมืองหรือไม่ ฉันประทับใจมากกับราคาและคุณภาพของกล้องนี้ เก็บประจุได้ดีกว่าที่เหลือ ฉันมีอันที่สองที่จะเก็บไว้ในสุ่มเพื่อที่ฉันจะได้จับตาดูนกของฉันในขณะที่พวกมันทำรัง
By
D****e W****g
Sunday, 10 July 2022
Very clear video quality and clear night vision. And if I'm at work and ups is dropping off a package I'll get a notification and of I click on it. It takes me straight to the live stream, and I can talk directly to the delivery person. It's great I love it
By
L*****r U****c
Saturday, 09 July 2022
กล้องรักษาความปลอดภัยพลังงานแสงอาทิตย์นี้ยอดเยี่ยม , ฉันซื้อมาเมื่อ 1 สัปดาห์ก่อน จนถึงตอนนี้ทำงานได้ดีมาก คุณเพียงแค่ต้องซื้อการ์ด SD และดาวน์โหลดแอปแล้ว ภาพที่ชัดเจน ฉันชอบกล้องนี้มาก
By
M****d X****e
Thursday, 07 July 2022
This solar powered camera is definitely something I'll recommend and buy again ! The video quality is excellent.
By
W***h F***a
Wednesday, 06 July 2022
Set up was pretty easy if you follow all the directions. I would recommend this camera to anyone looking for a camera. If you want to adjust your view in your yard it is easy to do on your phone. We have been using it for about a week and love it.
By
J***e H*****v
Monday, 04 July 2022
I live in a sunny state so it most likely will never be needing recharging/batteries thanks to the solar panel that comes with it. But as a back up you can use batteries, too. I'm satisfied with the product, it has some nice features, not to mention I sleep better at night.
By
N****t W****g
Sunday, 03 July 2022
ใช้ง่าย ภาพสด ไวมาก ประหยัดไฟ ติดตั้งง่าย ชอบเครื่องนี้มาก
By
J***w K****s
Friday, 01 July 2022
It works for what I needed it to, great in motion detection and also lighting.
By
S****k R**a
Sunday, 26 June 2022
Clear pictures & video, the app works fine, and I get notified instantly if there's any movement.
By
D***g B***a
Tuesday, 21 June 2022
The camera was easy to set up and a very nice product. I'm very satisfied with this purchase. Thank you!
By
Y****f W****m
Monday, 20 June 2022
I really am happy with this purchase. Easy to install, and easy to use. Remote viewing and remote controlled. Provide safety and reassurance for my family and my commercial businesses. I will definitely get more when I need them. I am very happy with this.
By
O****a F*****s
Sunday, 19 June 2022
I was pleasantly surprised to see the quality of the footage from this camera! It is full HD quality and picks up details I never would have imagined.
By
J****e D****b
Friday, 17 June 2022
จนถึงตอนนี้คุณภาพเสียงดีกว่าที่ฉันคาดไว้ คุณอาจต้องลองหลายครั้งเพื่อค้นหาความไวที่เหมาะสมสำหรับการตรวจจับการเคลื่อนไหวและทิศทาง ไม่เช่นนั้นจะมีการแจ้งเตือนจากรถยนต์ที่ขับโดย
By
W***g K****n
Friday, 17 June 2022
ฉันพอใจมากกับกล้อง Wifi พลังงานแสงอาทิตย์และ HD ราคาไม่แพงและติดตั้งง่าย อธิบายได้อย่างแม่นยำ ฉันยังชอบการจัดส่งที่รวดเร็ว ทั้งหมดนี้ฉันให้ 5 ดาว
By
J****e C****b
Thursday, 16 June 2022
This solar camera works better than expected and easy to set up. Price was good too.
By
W****b A****n
Wednesday, 15 June 2022
This is an excellent camera I got a professional camera to install and even he was impressed of the quality. Night vision and motion detector is excellent.
By
K****e F****c
Tuesday, 14 June 2022
This camera is excellent and very easy to setup and use. I would recommend it. The night vision is so clear.
By
N***g S****m
Monday, 13 June 2022
What a great product, must have for home security. Once it's setup, easy to use with the app. Install was a breeze.
By
H****r C*****t
Sunday, 12 June 2022
ฉันไม่เชื่อ แต่นี่เป็นกล้องที่ยอดเยี่ยมในราคาสุดคุ้ม!

Your cart is currently empty.