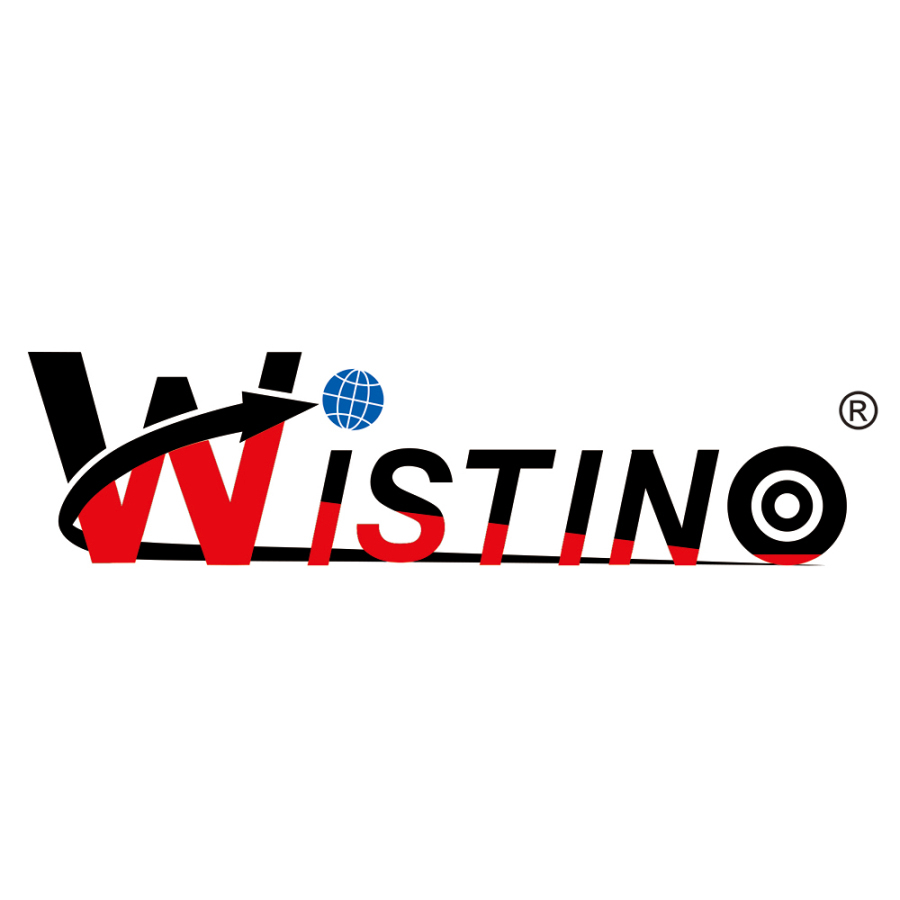 Wistino
Wistino 5MP Waterproof 4G Sim Lte Solar CCTV PTZ Camera Outdoor 8760 Hours Continuous HD Recording Colorful Night Vision
✔️APP-Audiocam/Have PC Client ✔️Resolution: Real 5MP ✔️8760 Hours Continuous Recording ✔️365 Days Online(Using Cat4) ✔️Support Android/IOS/Pad/PC Remote View ✔️Battery: Tesla 21700 Independent management ✔️Get Instant APP alerts when motion is detected ✔️Power Supply: DC5V 2A Only ✔️Reset mode: Bluetooth/press button ✔️Image Sensor: 1/2.8" Progressive Scan Sensor ✔️Lens: 4.0mm 5.0 Mega Pixels Lens wide 80deg viewing angle ✔️Auto White Balance and 3D-DNR ✔️Night Vision: 2 Array IR Leds 98Ft (30m)/4 IR LEDS ✔️Minimum Illumination: Colour 0.1 Lux, B/W 0.01 Lux ✔️Weatherproof: Yes ✔️Two Way Audio Support WHY MUST&ONLY CHOOSE WISTINO? 1. We are the only solar 4G CCTV that can charge even when it rains (the charging method is solar + rain + 5v2a plug) 2. We can record continuously for 24 hours, 365 days the camera is online, it's not just motion detection to record 3. Full-color night vision, the effect of night vision is not bad when tested 35 meters away. The actual video can be requested. 4. Actual measurement of motion detection, the farthest compared with our peers. It reaches 12 meters, and it will not be falsely reported. Too many problems with PIR. Overheating or cold will cause false alarms. We adopted a humanoid algorithm instead of PIR. 5. There are too many problems with the 18650 in the same industry. We use 21700, and each battery is managed separately, unlike the peers in series to form a package. One problem all went wrong. In addition to the problem, we will not burn out the machine, nor will it affect the use of other batteries. 6.Simple reset method: Bluetooth can be reset remotely. No need to climb up WISTINO Advantages 1. About the design of solar panels: ---Specially selected solar panels with stacked silicon technology, which greatly increases the charging rate by 30%-40% compared to products of the same size from other suppliers. It is light in weight and easy to install. No special poles are required. The solar panels are small in area and light in weight, with low wind resistance and support. Not easy to break. 2. About the design of the battery system: -1. Similar models on the market all use 18650 domestic batteries, which are unstable in low temperature environments. Our company specially selects Tesla Motors designated loading batteries. South Korea's Samsung low temperature resistant products can withstand low temperatures-45 degrees. This type of battery will not appear in winter. The problem is that the charging is stable, and the work is stable and normal. -2. Each battery is managed separately. The damage of a single battery will not affect the use of other batteries. -3. Battery protection (over current, over voltage, over temperature), will not burn out the machine due to battery reasons, including reversed battery installation. 3. About the design of the signal: We especially use 5DB all-copper antenna to effectively ensure the signal strength. 4. About the design of matching: Built-in Bluetooth module, Bluetooth pai
WHY MUST&ONLY CHOOSE WISTINO?
1. We are the only solar 4G CCTV that can charge even when it rains (the charging method is solar + rain + 5v2a plug)
2. We can record continuously for 8760 hours, 365 days the camera is online, it's not just motion detection to record
3. Full-color night vision, the effect of night vision is not bad when tested 35 meters away. The actual video can be requested.
4. Actual measurement of motion detection, the farthest compared with our peers. It reaches 12 meters, and it will not be falsely reported. Too many problems with PIR. Overheating or cold will cause false alarms. We adopted a humanoid algorithm instead of PIR.
5. There are too many problems with the 18650 in the same industry. We use 21700, and each battery is managed separately, unlike the peers in series to form a package. One problem all went wrong. In addition to the problem, we will not burn out the machine, nor will it affect the use of other batteries.
6.Simple reset method: Bluetooth can be reset remotely. No need to climb up.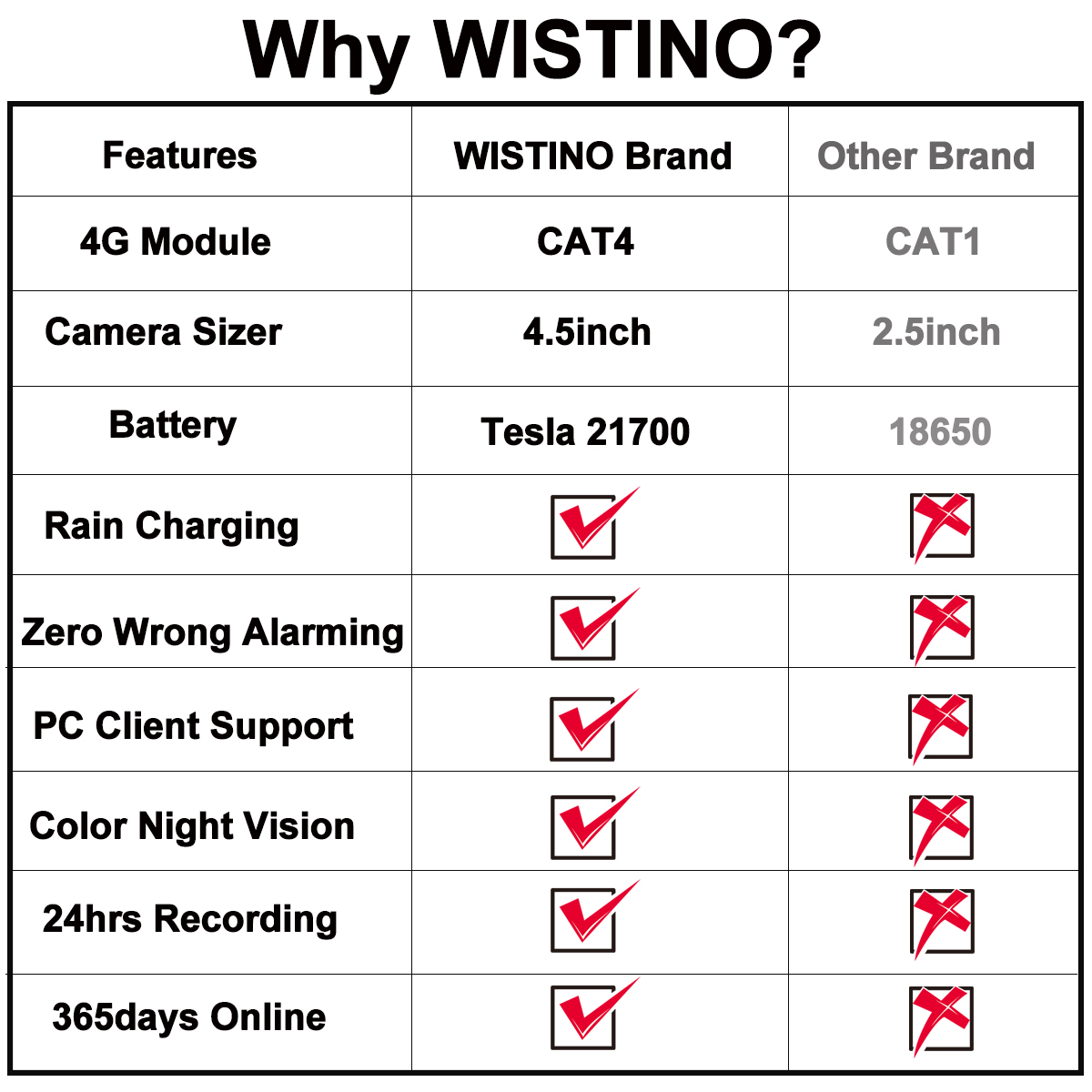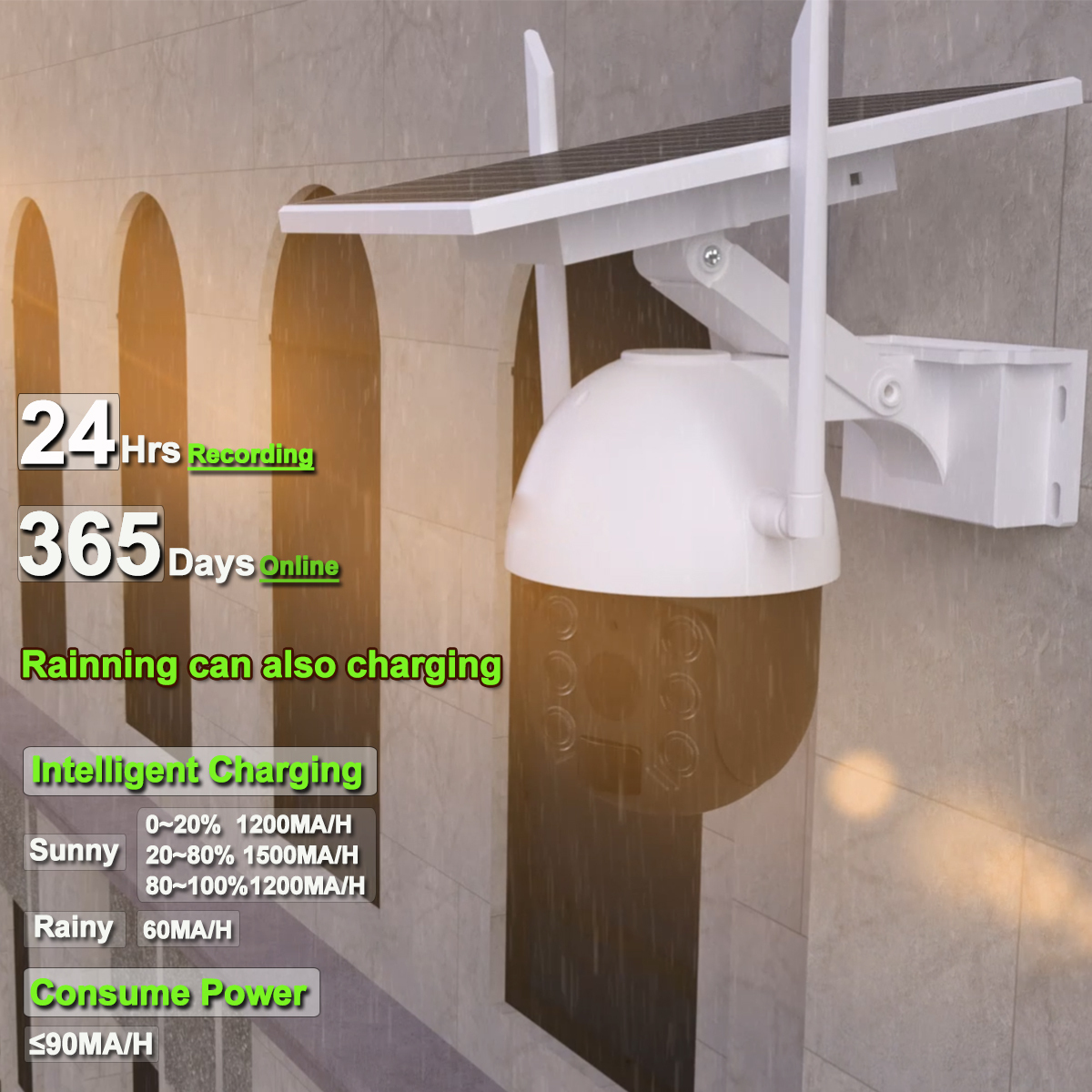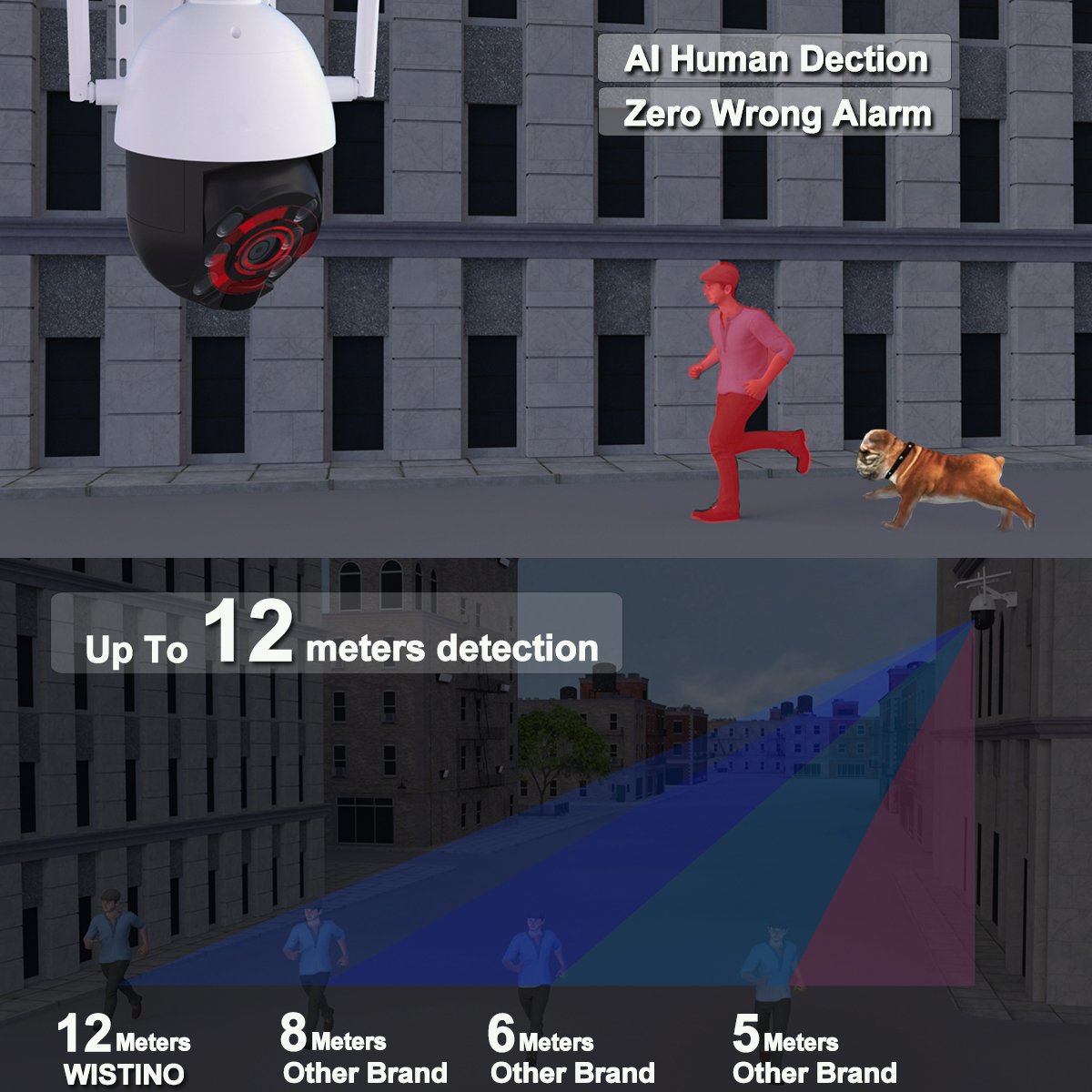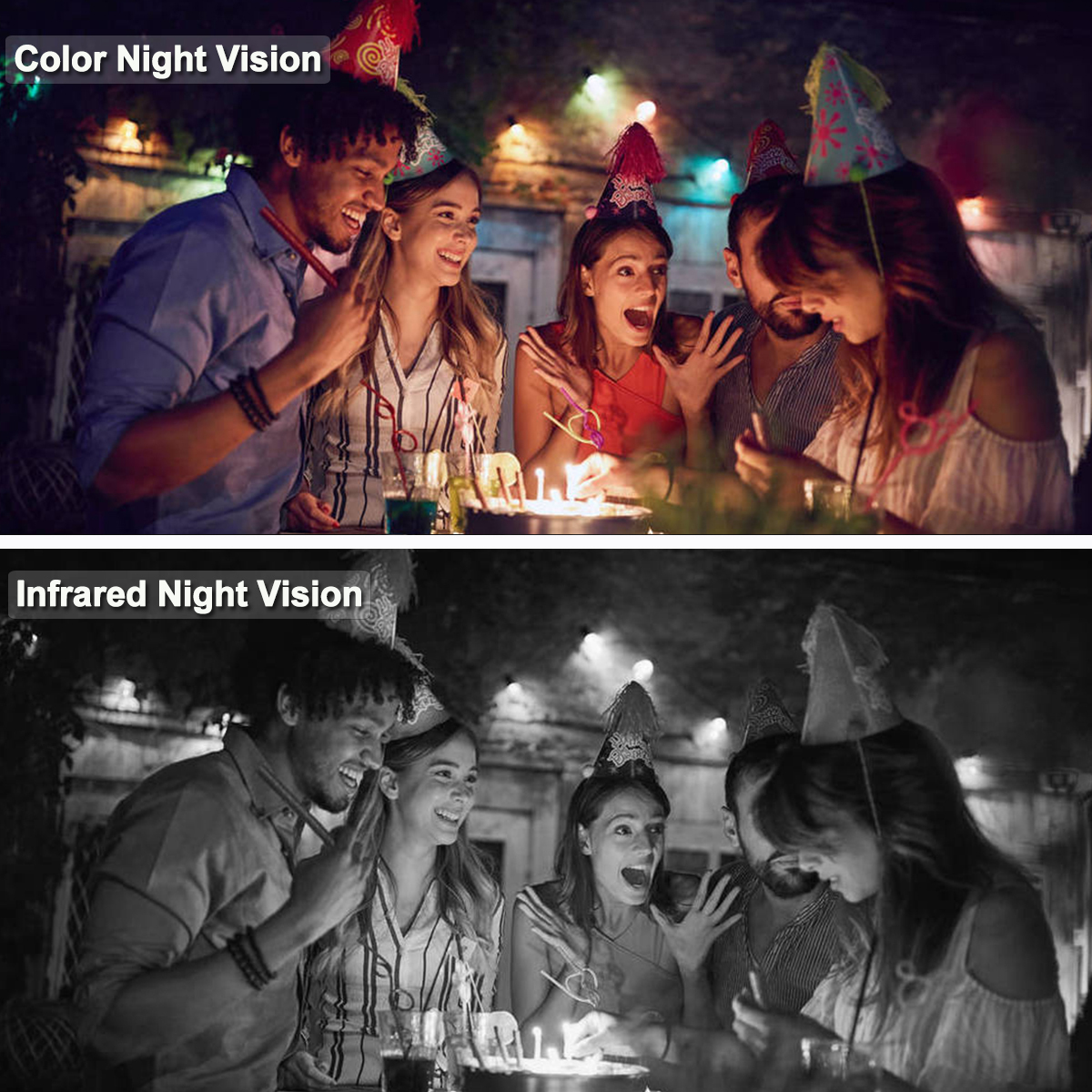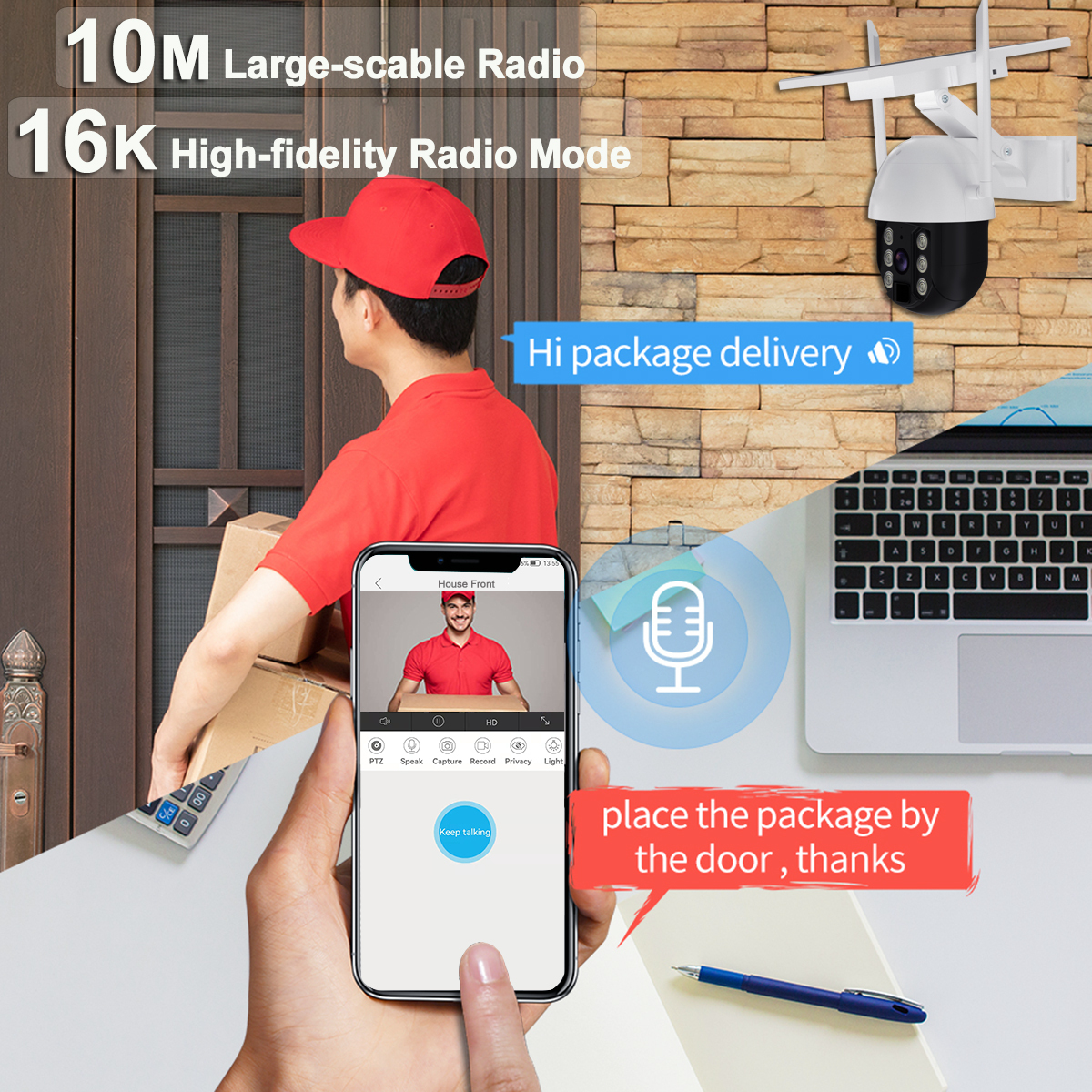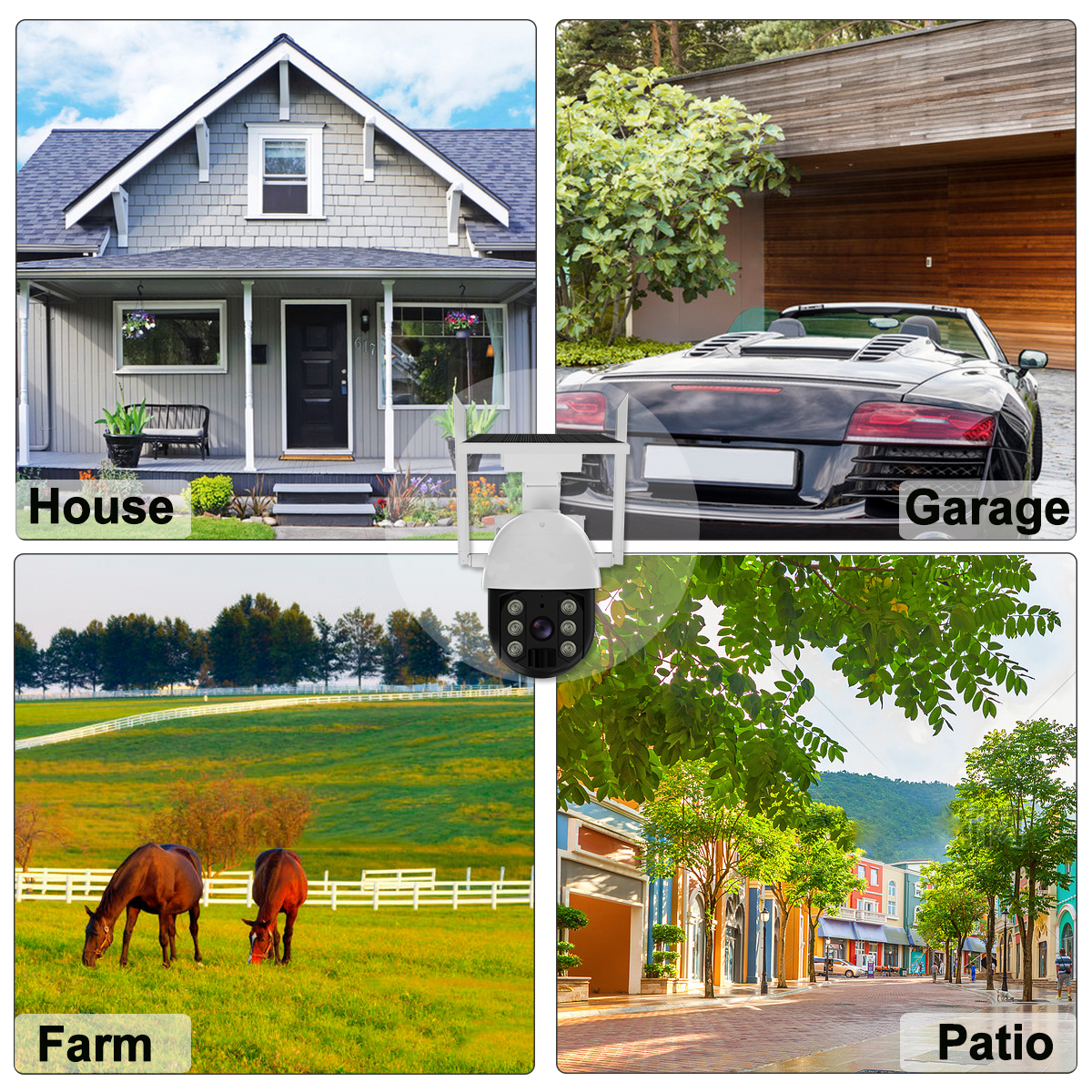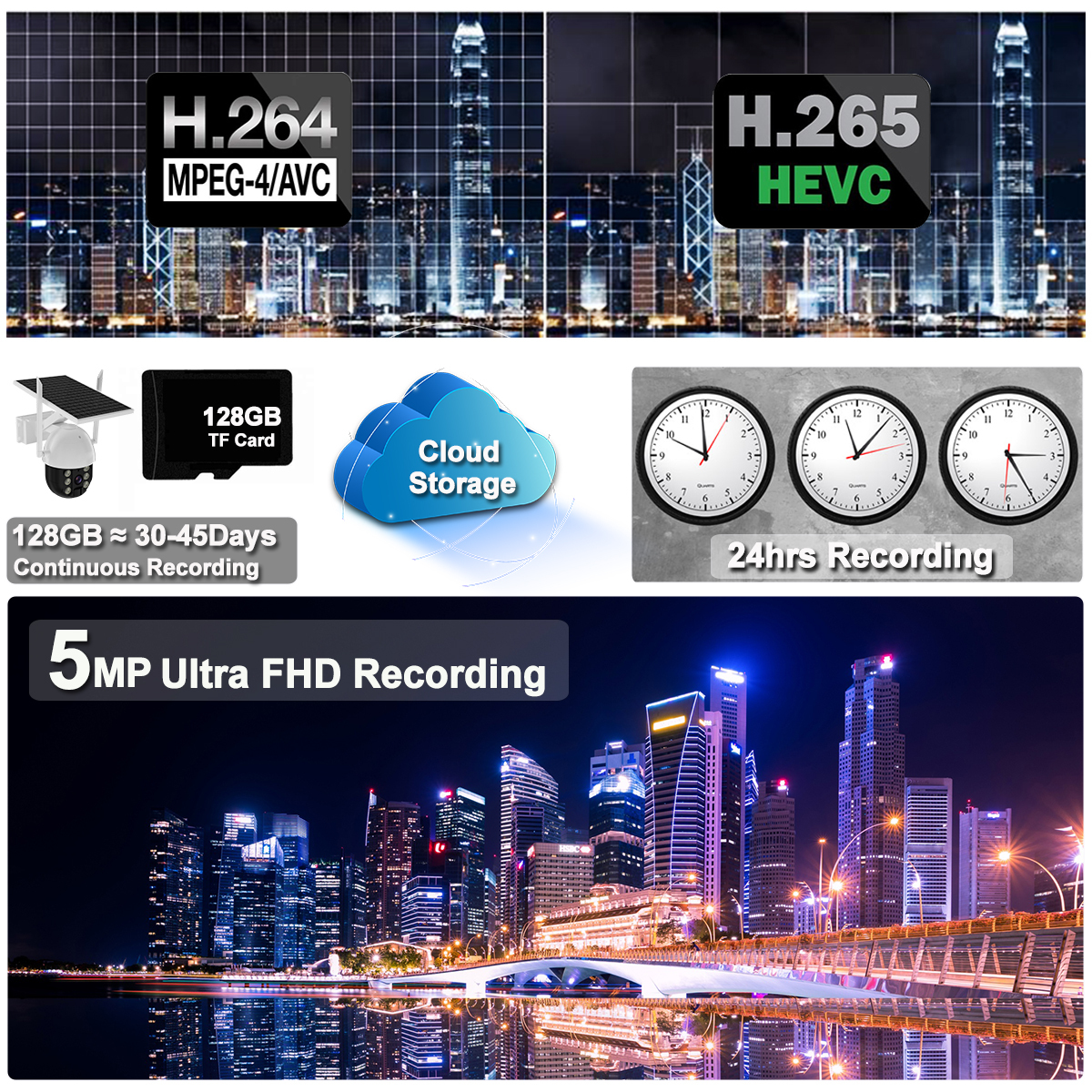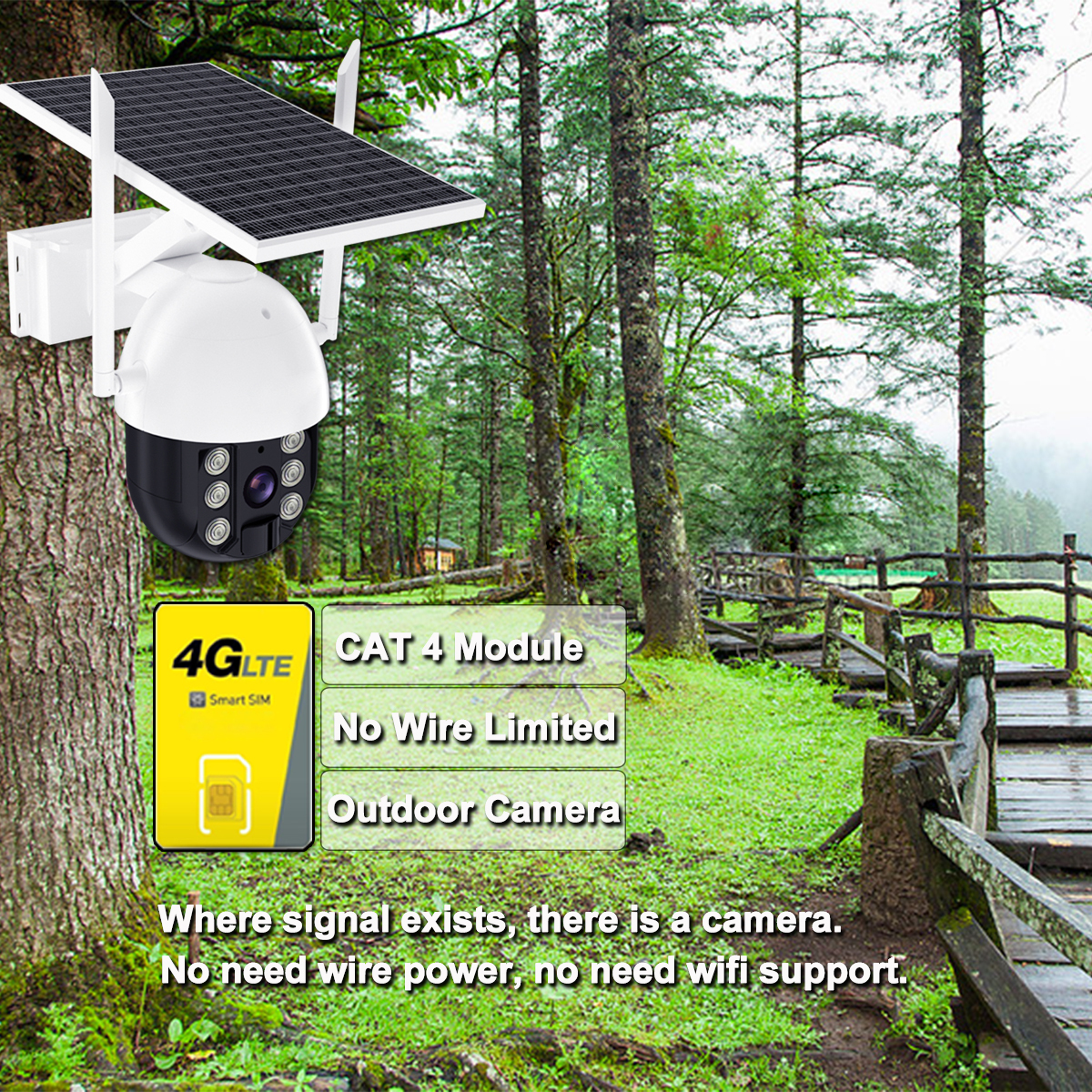 Specifications:
Brand

Wistino

Mega pixels

5

Security Camera Style

Turret

Recorder Channel Capacity

4 channel

Security Camera Features

Indoor,Indoor & Outdoor,Infrared Night Vision,Zoom Lens

Model

SOLAR-SM-4G

Warranty Type

International Seller Warranty

Warranty Period

1 Year
What's in the box
1. Solar 4g camera with solar panels *1 2.CCTV User manual *1 3.WISTINO CCTV Aftersales card *1 4.CCTV Screw package * 1
Recent Reviews ( 24 )
By
F****j
Monday, 11 July 2022
กล้องนี้ดีมาก! ให้ภาพกว้างชัดเจนทั้งกลางวันและกลางคืน! ฉันมีความสุขมากกับกล้องนี้และสั่งซื้อกล้องนี้สำหรับครอบครัว สำหรับราคาและคุณภาพ ฉันชอบมัน!
By
S*****o
Sunday, 10 July 2022
I bought this for my front yard and I am amazed at the picture quality and the night vision. The set up was so very easy too. I purchased another 1 for a friend. This would make a neat affordable useful gift.
By
A****y
Saturday, 09 July 2022
This camera is much better than expensive cameras, in many different ways. Reliable, resistant, simple and sophisticated. With many advanced features and still very easy to install and use. I recommend it. I would love to see a wireless version of the same exact model. I am waiting for it.
By
D***g
Wednesday, 06 July 2022
I am soooo happy with my purchase. At first I was nervous about buying this specific one because of the price but it's def with the purchase. I took a screenshot during the day and during the night and they both look clear and visible. Night vision is awesome. Overall shipping was fast. I will be purchasing another one for my backyard.
By
C****n E****s
Friday, 01 July 2022
ภาพในเวลากลางวันนั้นยอดเยี่ยมและการมองเห็น/มุมมองในเวลากลางคืนนั้นมีคุณภาพดีเยี่ยม ฉันเพิ่งได้รับกล้องมา 2 ตัวในวันนี้ และรู้สึกประหลาดใจที่พบว่าภาพนั้นชัดเจนมาก ดีกว่ากล้องทุกตัวที่ฉันเคยมี ฉันสั่งอีก 2 อันสำหรับประตูหลังของฉัน
By
F***h S****g
Tuesday, 28 June 2022
The picture quality is better more clearer and in color. I'm loving it. I recommend this camera to everyone especially if you have kids or pets! You can also talk and listen through the camera through the app. Make sure you get a micro sd card so your able to record though
By
C****o I****a
Monday, 27 June 2022
ฉันใช้สิ่งนี้เพื่อจับตาดูแมวของฉันและมันสมบูรณ์แบบ! มันชัดเจนและมีคุณภาพดีเยี่ยม แนะนำโดยสิ้นเชิง
By
S****g E****o
Friday, 24 June 2022
We bought this for our daughter, who is an RN, so she can check on her cats when she's at work. She gets on the app and talks to them through the camera speaker. She loves this camera!
By
S****y
Friday, 24 June 2022
ฉันอยากซื้อของพวกนี้ตั้งแต่มันออกมา การซื้อครั้งล่าสุดของฉันเกิดจากมีคนมายุ่งกับรถของลูกชายฉันเมื่อคืนก่อน ติดตั้งง่ายมาก กล้องชัดทั้งกลางวันและกลางคืน โดยรวมพอใจมาก
By
S*****g
Thursday, 23 June 2022
การมองเห็นสีในเวลากลางคืนเกินคาด!! ฉันรู้สึกเหมือนกำลังมองในเวลากลางวันที่มืดที่สุด! การมองเห็นสีตอนกลางคืนนั้นชัดเจนมากและสีสันก็สดใสจนน่าทึ่งจริงๆ ดีใจมากที่ได้ซื้อครั้งนี้และจะซื้อเพิ่ม!
By
O*****s
Monday, 20 June 2022
มันเป็นกล้องกลางแจ้งที่ยอดเยี่ยมในราคาที่เหมาะสม การติดตั้งและตั้งค่าทำได้ง่ายมาก
By
P******v
Saturday, 18 June 2022
มีความสุขมากกับกล้องนี้ ขอแนะนำให้ทุกคนที่มีงบประมาณจำกัดแต่ต้องการระบบรักษาความปลอดภัยบางประเภท ติดตั้งง่ายสุด ๆ แม้แต่สำหรับเราที่มีความท้าทายทางเทคนิค
By
C****s
Saturday, 18 June 2022
This camera is great. Crisp and clear picture, colorful and clear night vision. I will be buying another one very soon!
By
U****g
Thursday, 16 June 2022
ติดตั้งง่าย ติดง่าย ปรับได้มาก ภาพคุณภาพดี การมองเห็นตอนกลางคืนก็ค่อนข้างดีเช่นกัน
By
P***r E****d
Thursday, 16 June 2022
I am happy with the night vision quality. Actually 3 of my friends asked me "what camera did you use" after seeing the recorded footage. Lol, recommend.
By
Y***f S*****v
Sunday, 12 June 2022
ฉันซื้อกล้องนี้เป็นกล้องสำหรับลูกสุนัขเพื่อเฝ้าติดตามลูกสุนัขตัวใหม่ของฉันในคอกสุนัขของเธอ ฉันชอบที่จะดูเธอได้เวลาที่ฉันไม่อยู่บ้าน และถ้าเธออารมณ์เสียหรือถูกรบกวนจากบางสิ่ง ฉันสามารถคุยกับเธอและทำให้เธอสงบลงได้ ฉันมีผลิตภัณฑ์ Wistino ค่อนข้างน้อยและชอบมันมาก
By
X****s G***e
Wednesday, 08 June 2022
I like this camera I was looking for something affordable and easy to install.I found it.I love how clear the picture is and the night vision is great too.It picks up motion when someone is moving and sends you a notification.
By
T***d S****f
Tuesday, 07 June 2022
While I would not use these as my main security system, to me they are useful and 'fun' cams to use around the house. I have them outside and in most every room in the house. The night vision is great.
By
V****d S*****g
Monday, 06 June 2022
มีความสุขมากกับประสิทธิภาพของกล้องสุริยะที่น่าทึ่งเหล่านี้ กราฟิกที่ชัดเจนพร้อมการมองเห็นตอนกลางคืนที่ยอดเยี่ยม ตรวจจับการเคลื่อนไหวได้ดี ประสิทธิภาพที่น่าทึ่งในราคาสุดคุ้ม

Your cart is currently empty.