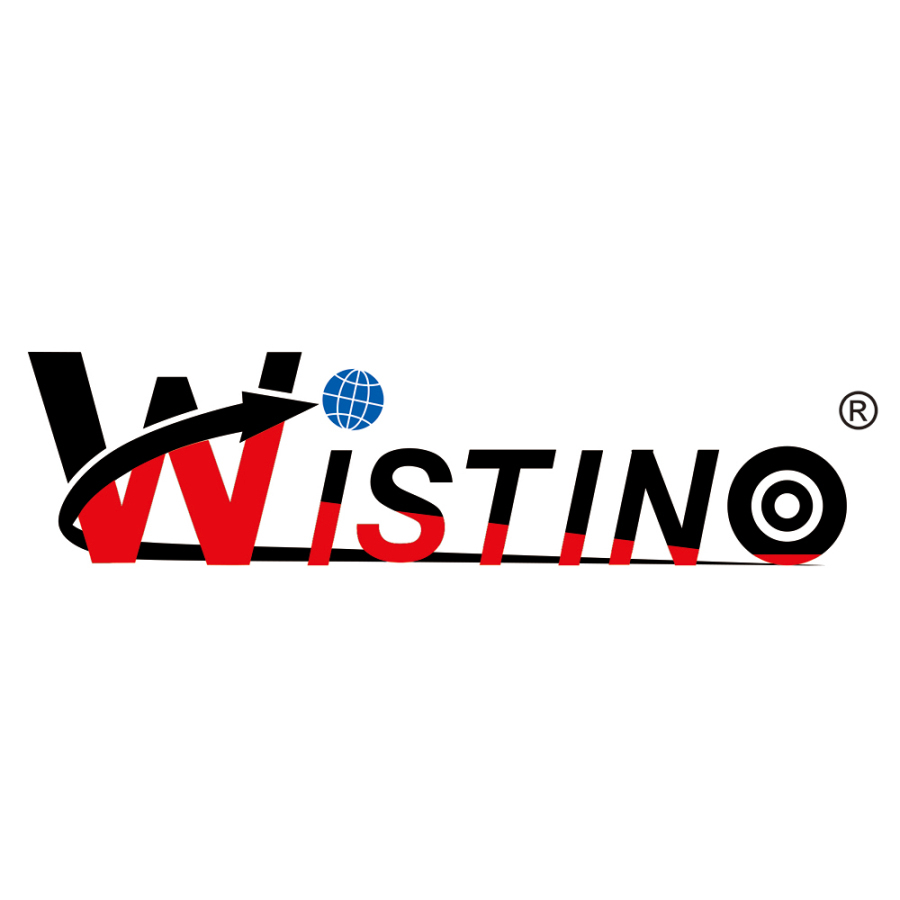 Wistino
Wistino 15.6 Inch 1920X1080P FHD Mini Portable Monitor Screen 72% NTSC Gaming Monitor for Laptop PC PS3 PS4 Switch
✔Headphone plug
✔Metal frame
✔72% NTSC
✔Only USB-C to USB-C video, power, touch will drive in one cables. USB-A to USB-C Cable will drive power and touch, need extra HDMI connecting to show display
✔Great Visual Experience: 15.6 Inch IPS screen with 1920x1080 native resolution screen, 16:9 (4:3) aspect ratio, 250cd/m2 brightness, 800:1 Contrast Ratio. The monitor delivers good visual experience
✔Plug Id Play: Two Type-C port, Upper Type-C for power and the Lower Typen an-C for Power&Touch&Video, Save space and easy to use. Charging your phone when connecting the upper type-c to usb 3.0 cable to power supply, no worry about short battery life when playing games on the phone(phone model listed in descriptions)
✔Support HDMI Input: HDMI format supports 720P, 1080P (50-60 Hz). Built in 3.5mm Ear Jack Port.Two Type-C Input. Built-in Dual rear speakers
✔Potable Monitor: Full aluminum housing,sturdy finished, protect your monitor from collapsing and bumping. Features a wraparound easel cover with which to support the monitor when in use - no other attachments are needed. When not in use, the cover protects the monitor when traveling, similar to a tablet cover
✔Support Wistino CCTV Recorder
WISTINO Portable Monitor
15.6inch Portable IPS Screen
1920X1080P FHD 178° Degree Viewing Angle
72% NTSC and HDR Effect at 4ms Respond Time
Q&A
Q1: Why the monitor doesn't work when connecting with phone or switch or laptop or Wistino CCTV recorder?
A1: Need to charge at the monitor with the USB to Type-C cable when using the monitor.
Q2: What is the difference between the parcel charger and the PD Charger?
A2: The charger in the parcel is a normal 5V-3A, 9V-2A,12V-1.5 multi function charger, only for the support
of the monitor light up. While a PD Charger can charging the mobile phone or laptop reversed. PD Charger
can be bought from us for option.
Q3: Does it support any kind of mobile phone connection via TYPE-C?
A3: WISTINO Portable Monitor only support the Thunder Type-C port mobile phone via TYPE-C cable.
Otherwise, it needs a USB C to HDMI hub for the transfer to connect mobile phone via HDMI port.
Q4: Does it support any kind of laptop via TYPE-C?
A4: WISTINOPortable Monitor only support the Thunder TYPE-C laptop via TYPE-C cable.
Otherwise, it needs to be connected via HDMI Cable on the laptop.
Q5: How do I use it to connect my SWITCH?
A5: Take off the switch controller first, then use the TYPE-C cable to connect the switch screen, at the same time, using the Charger to connect the monitor via USB to Type C cable.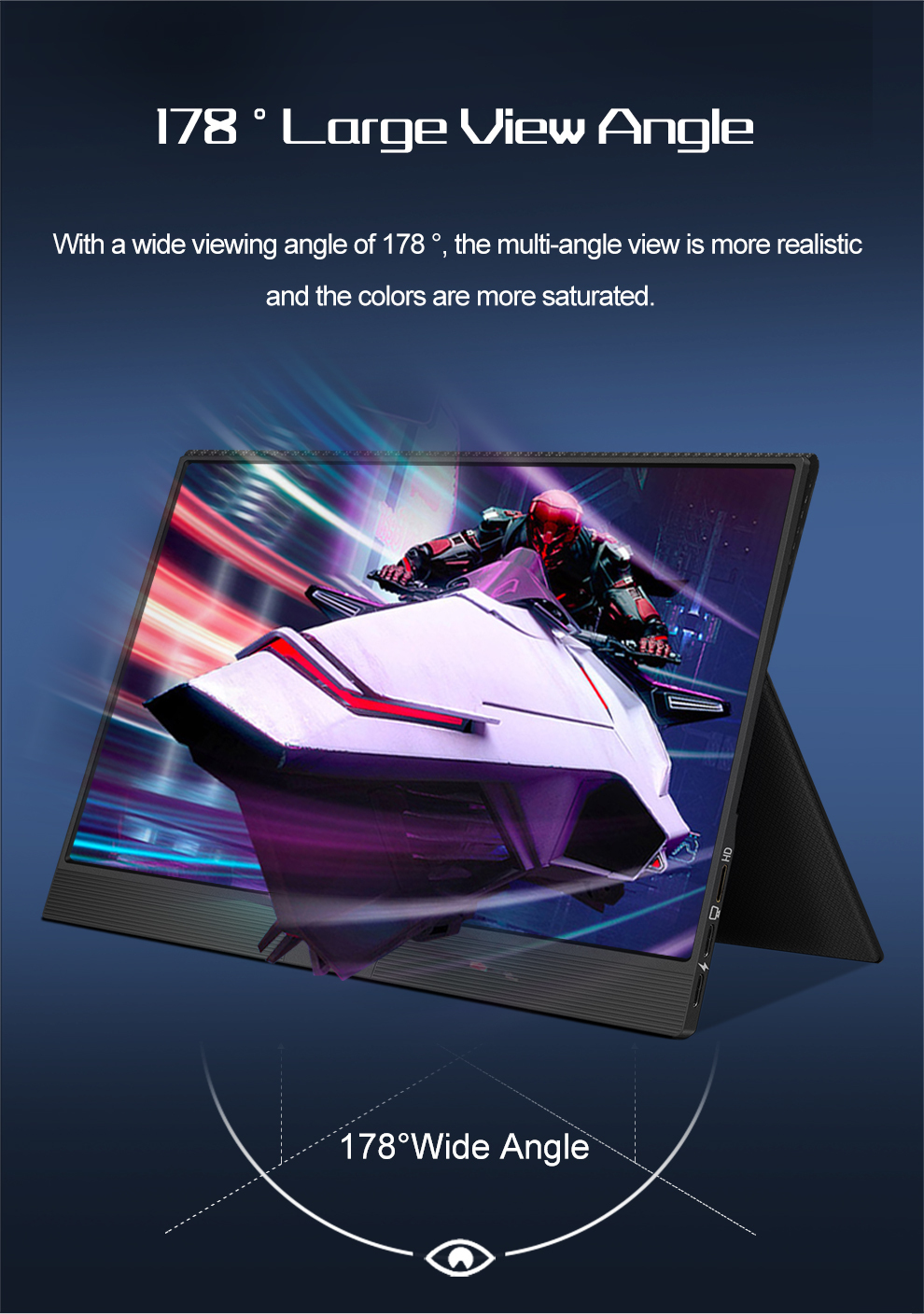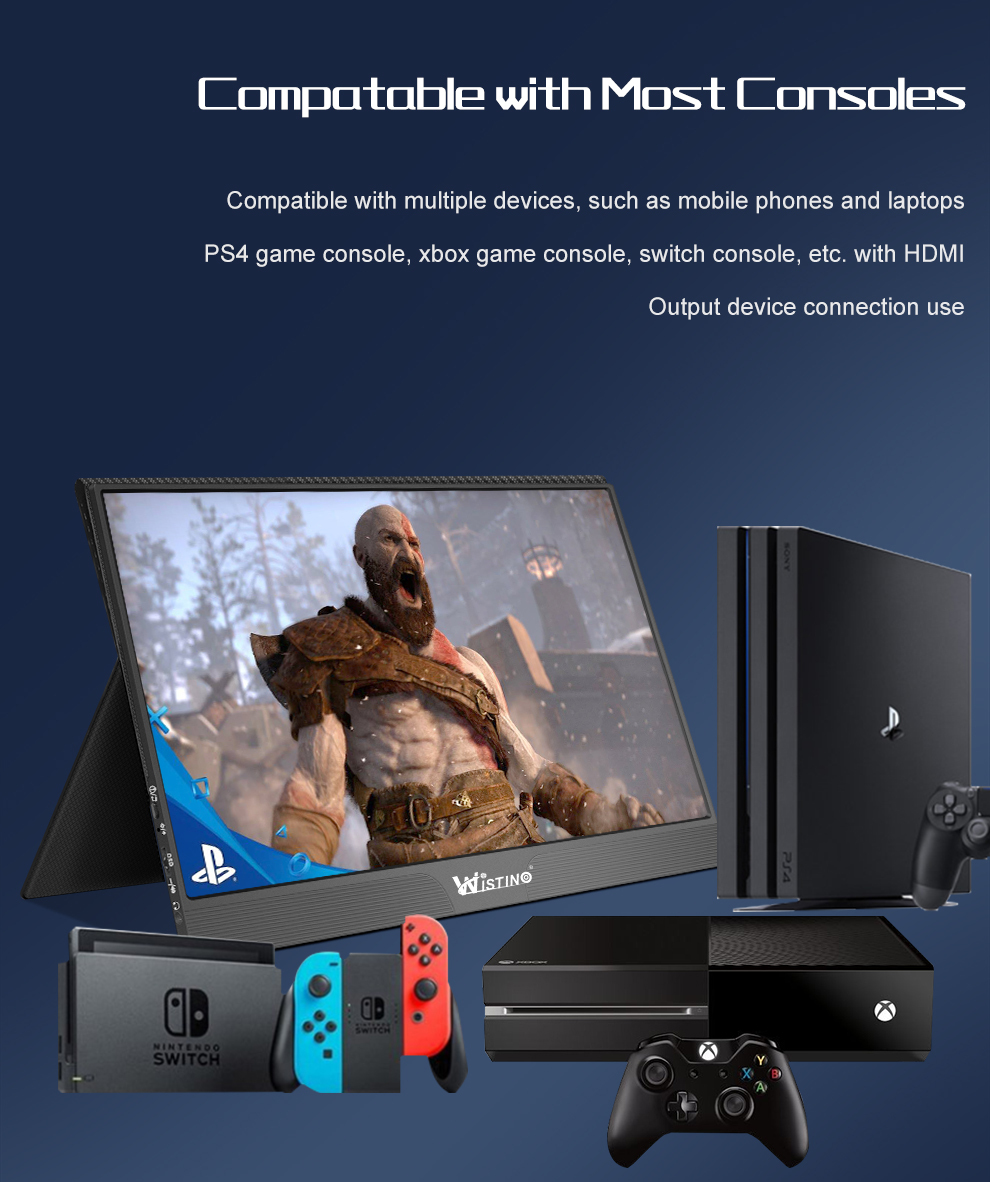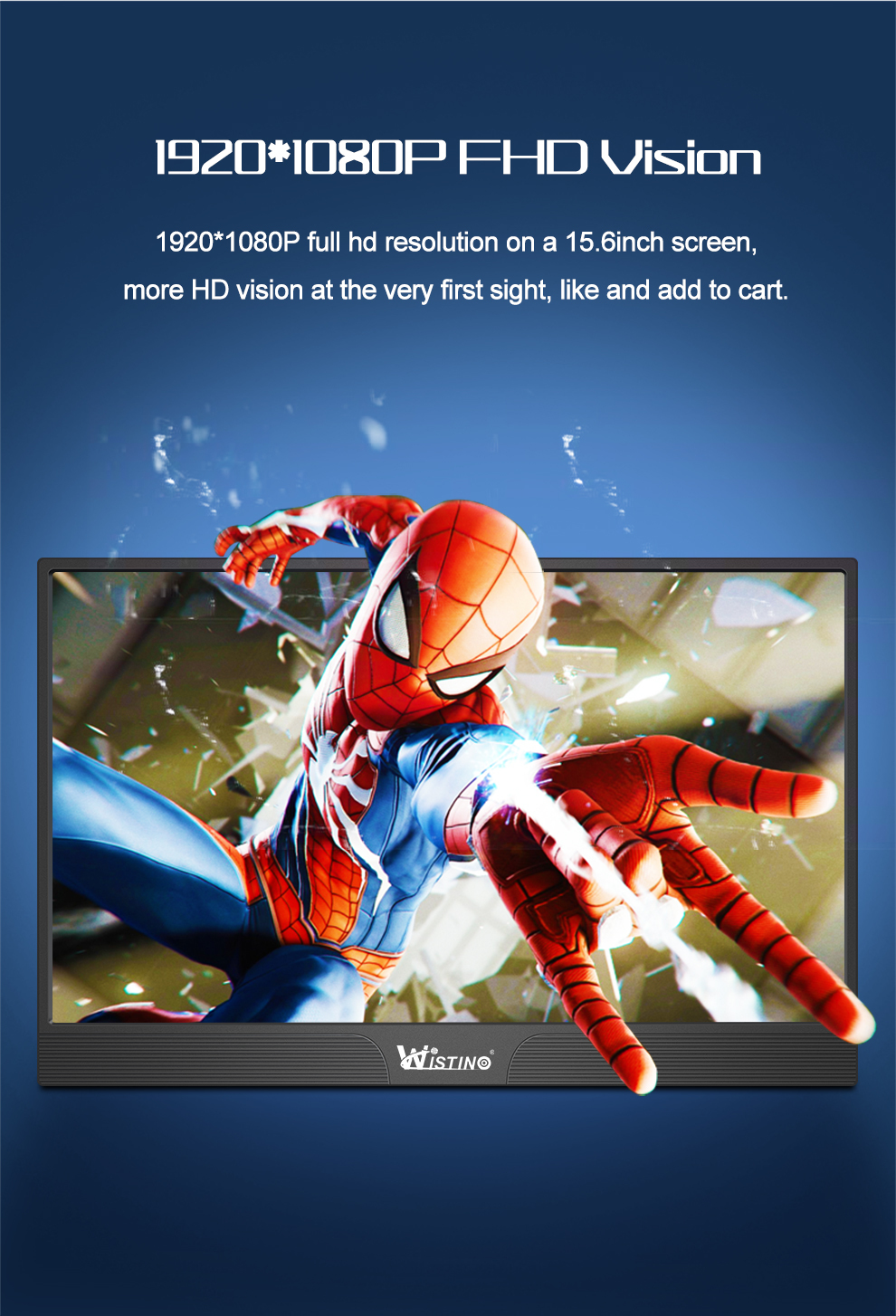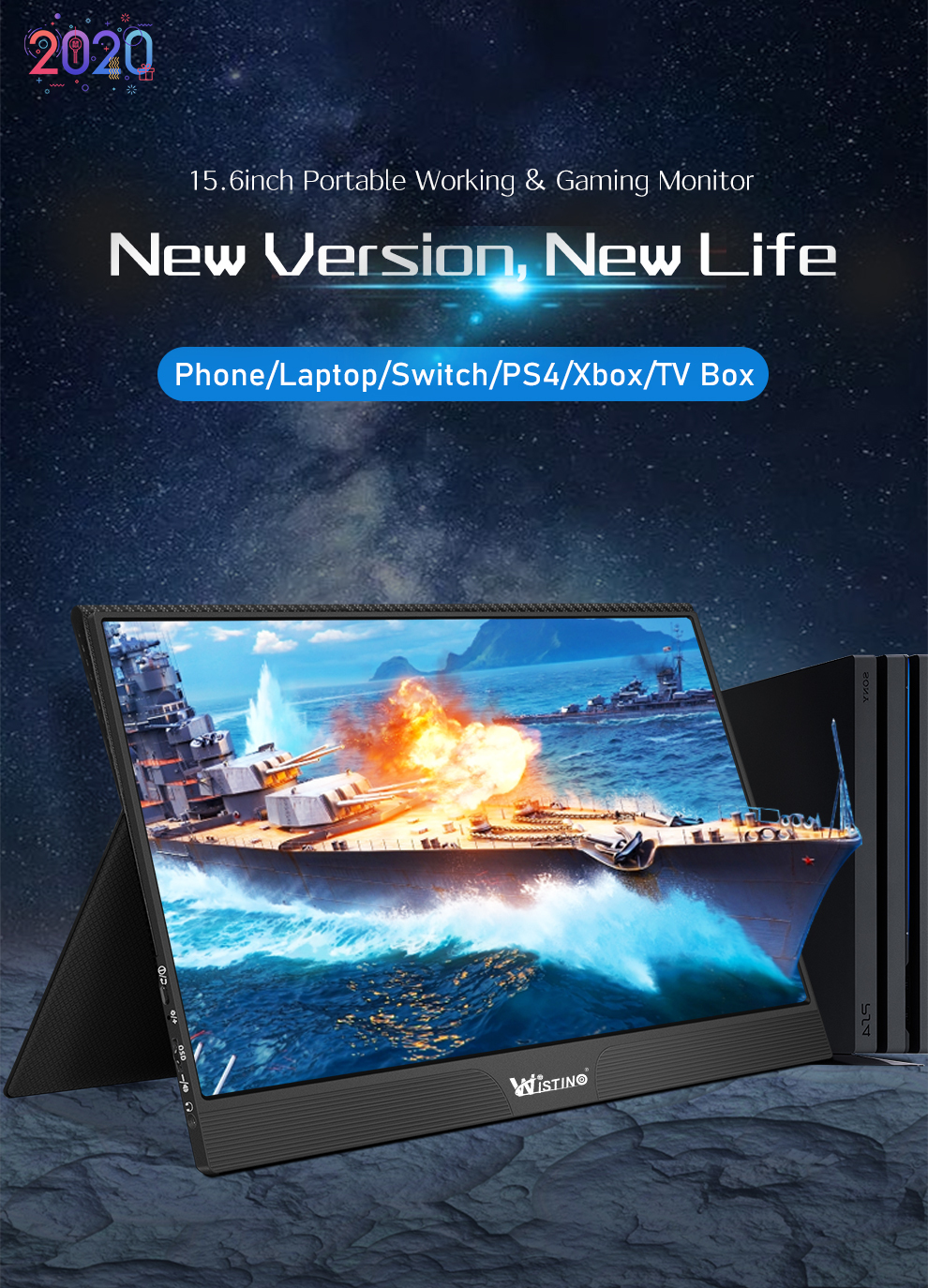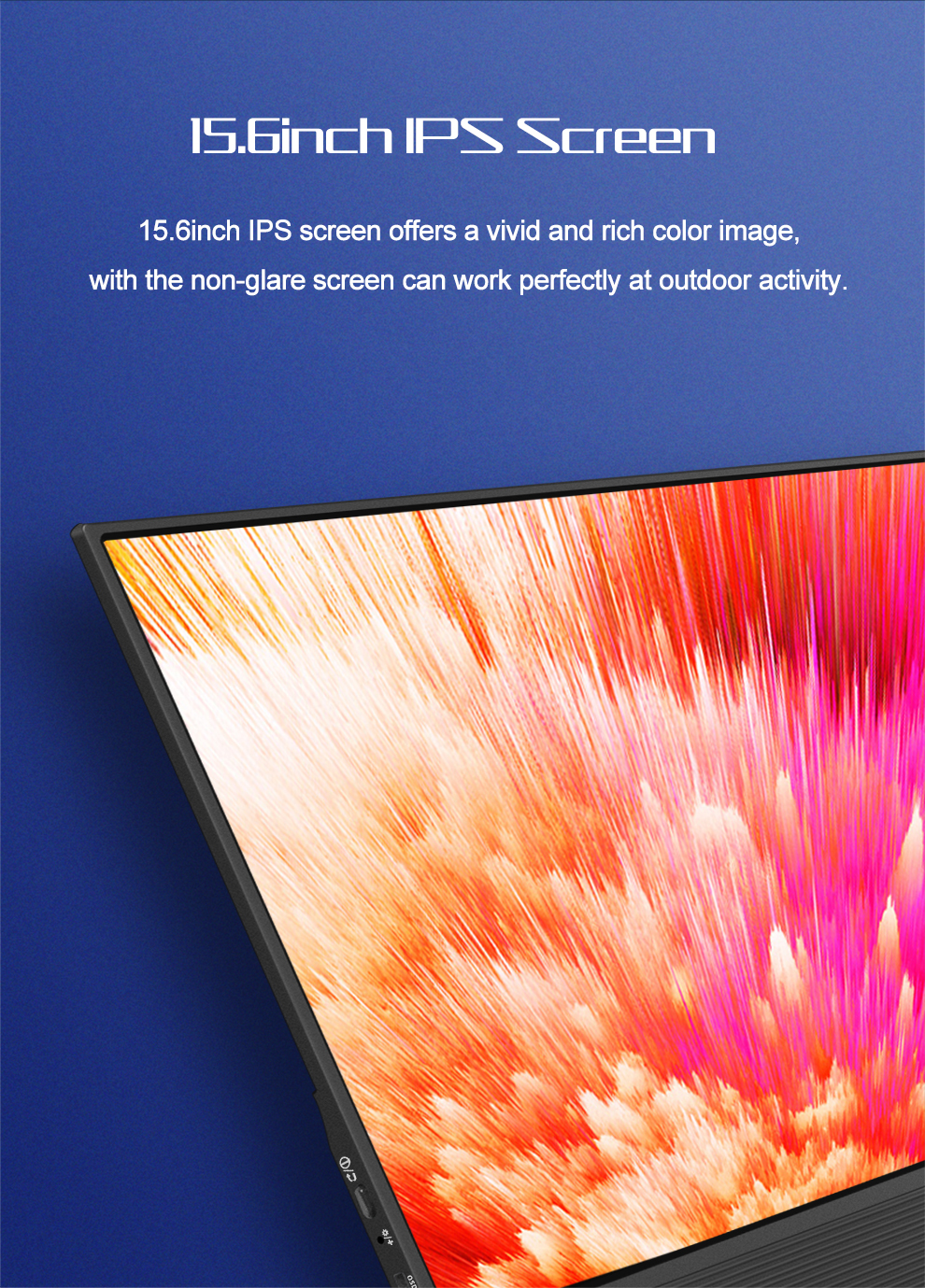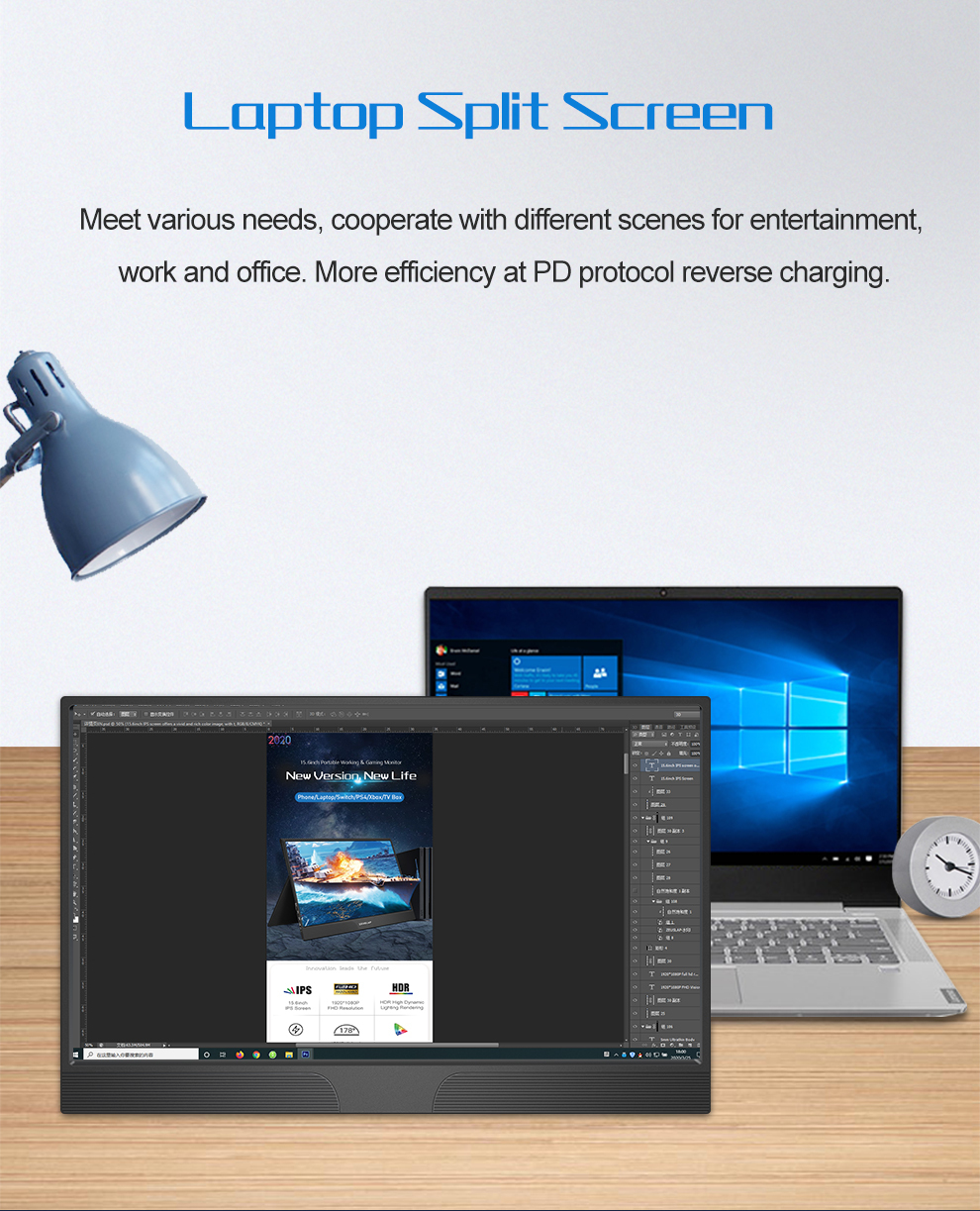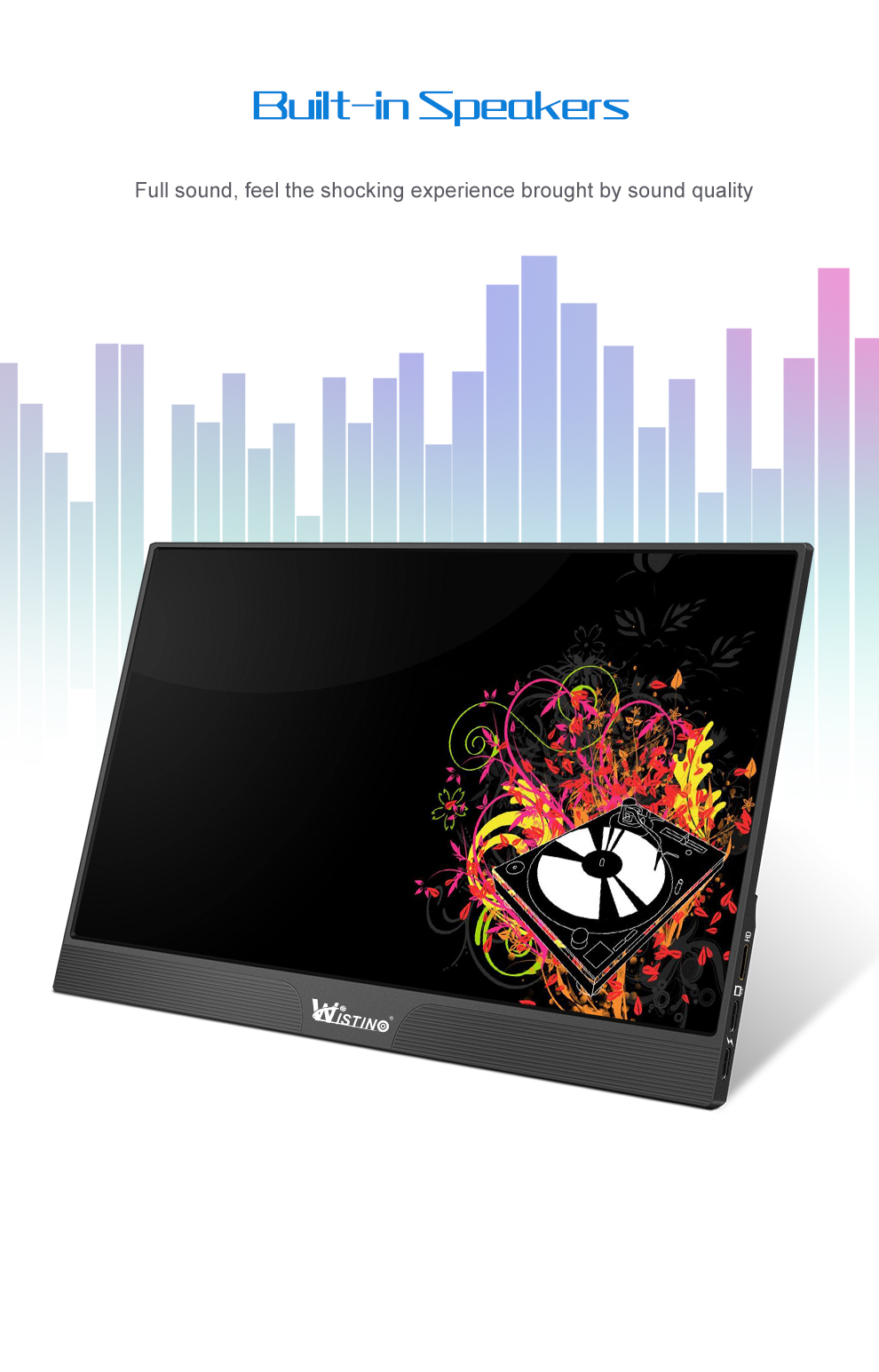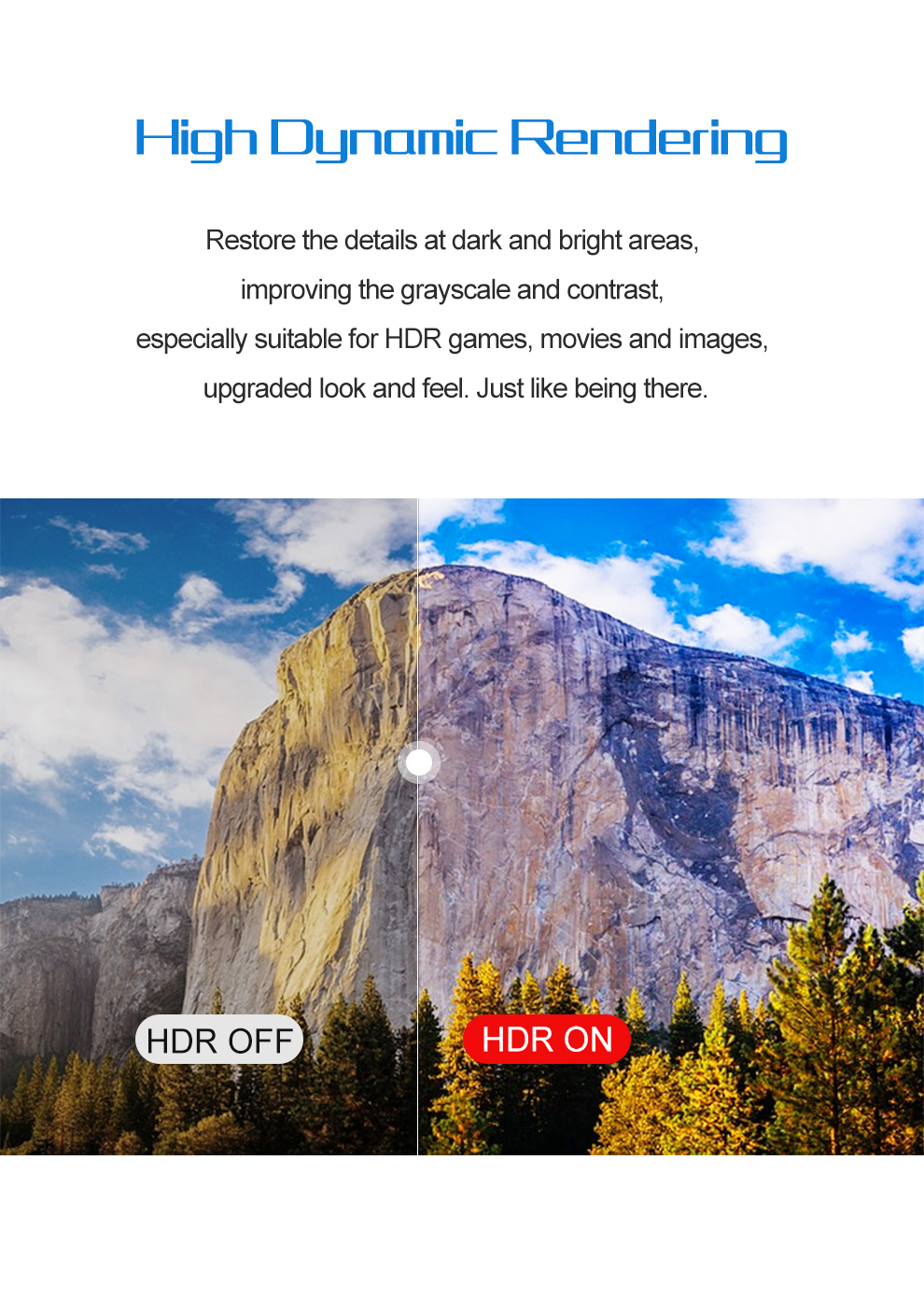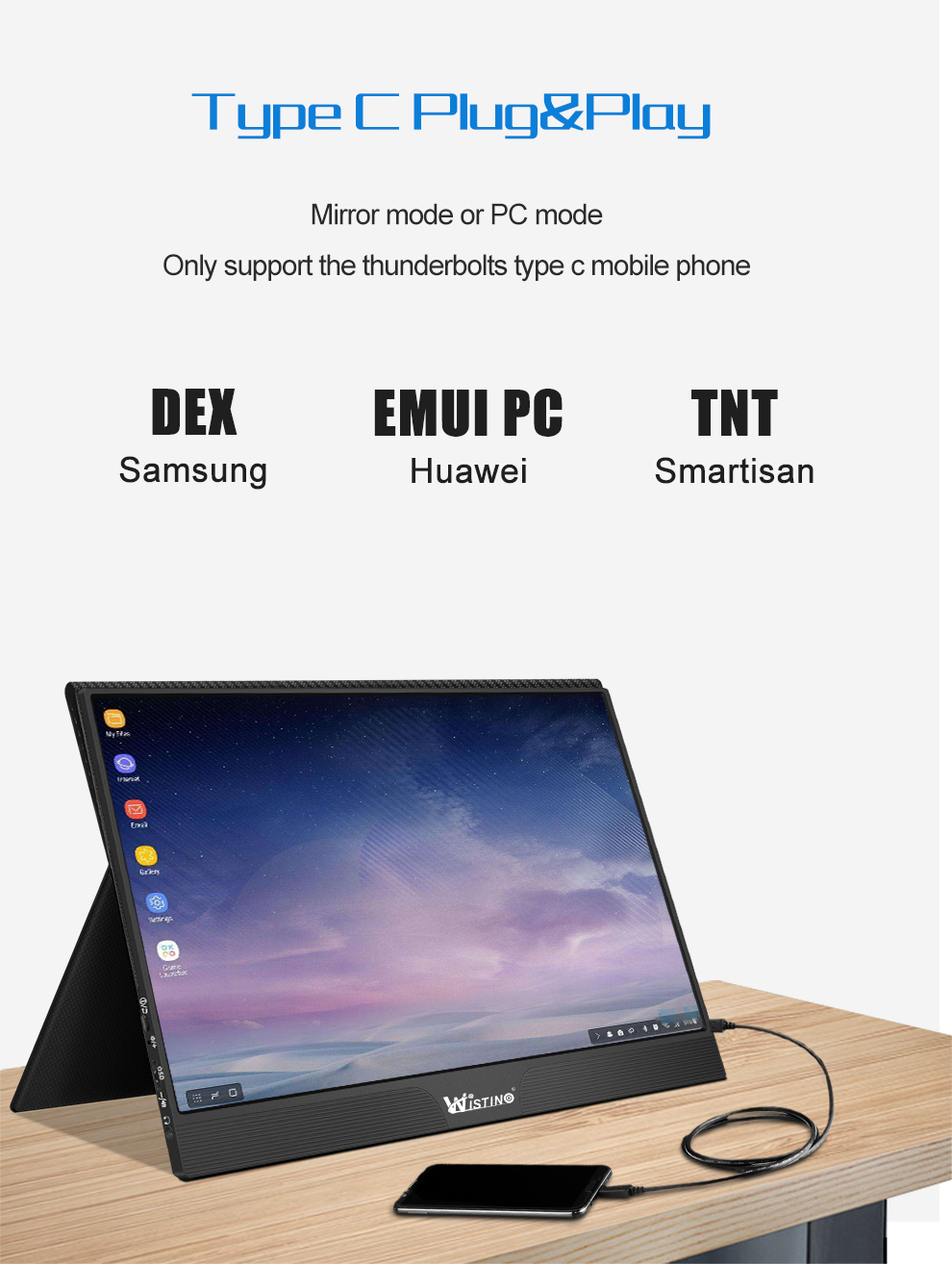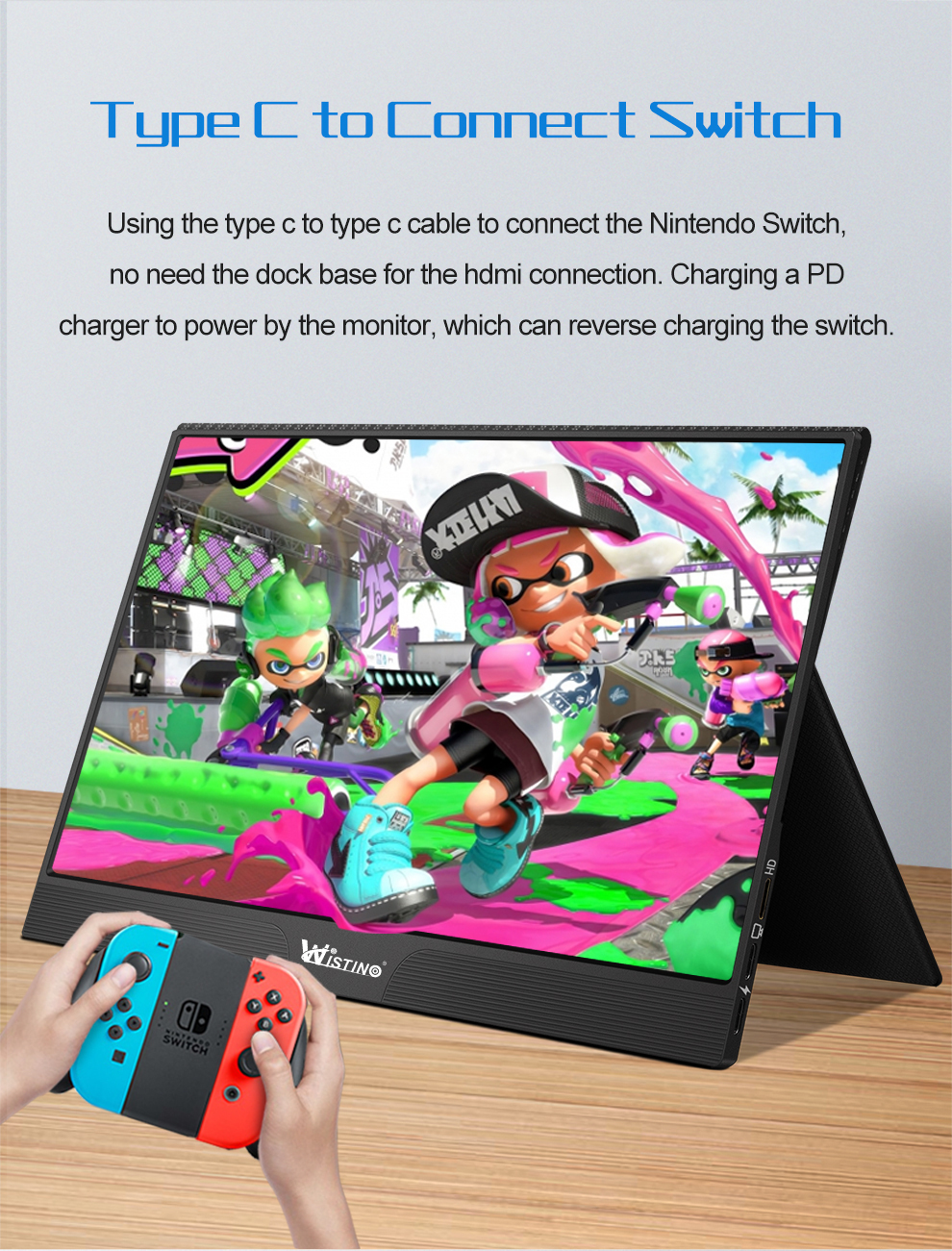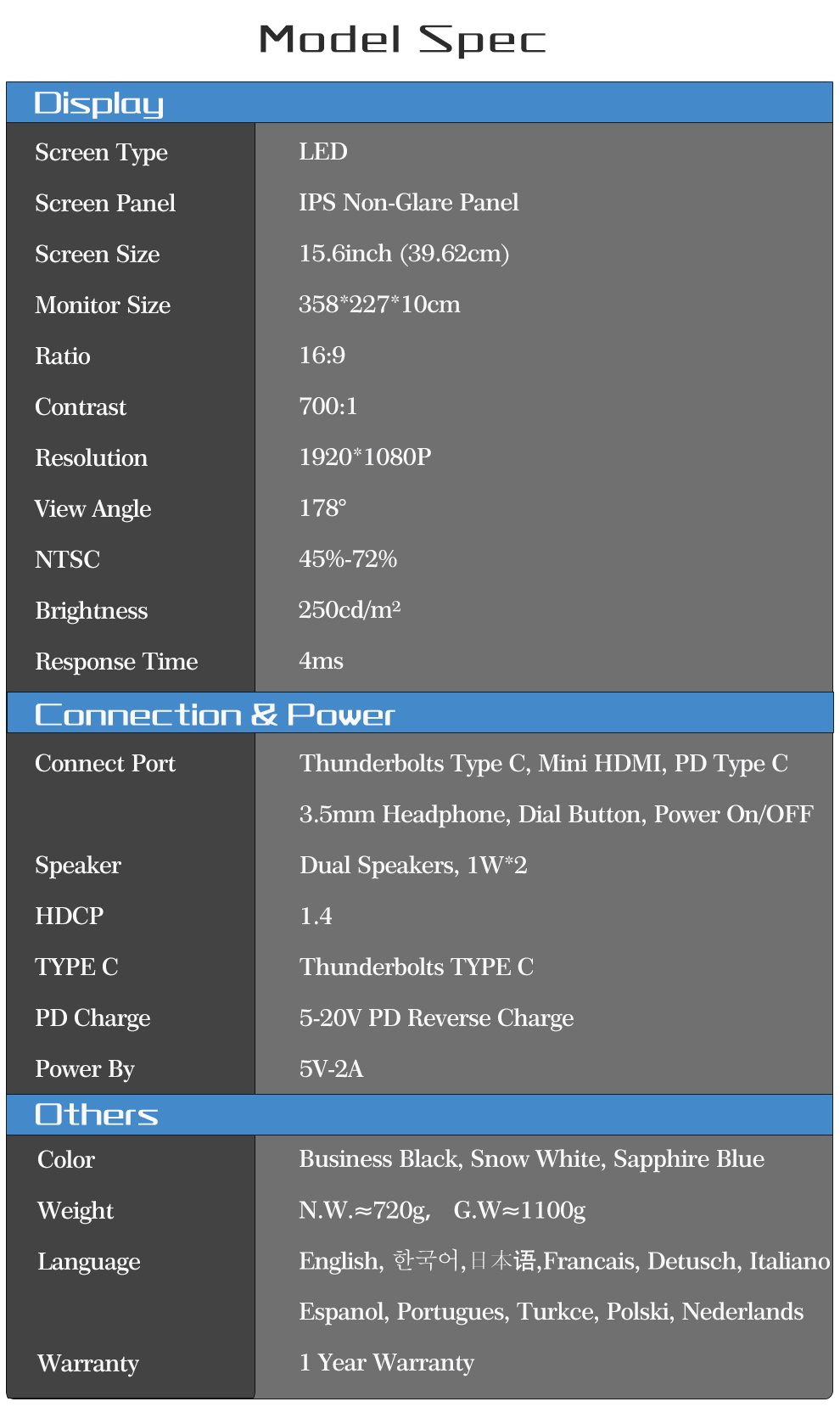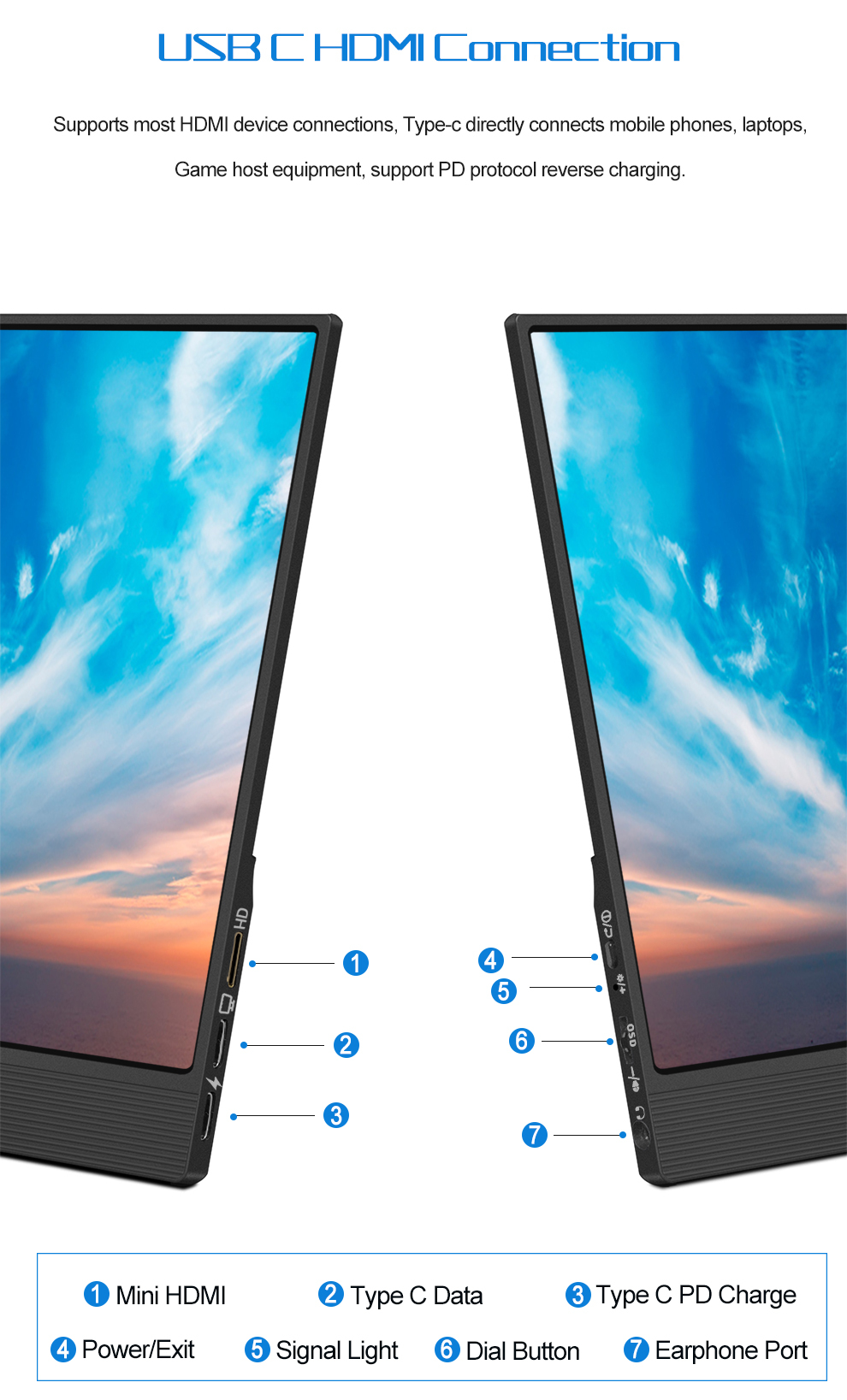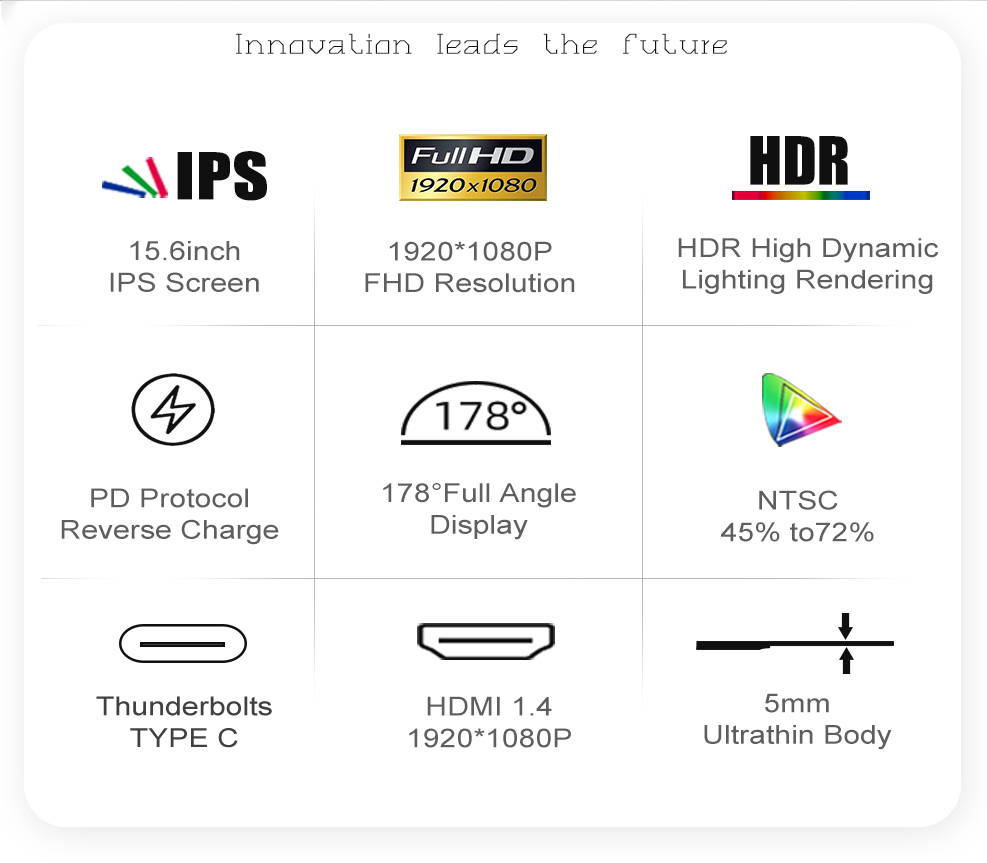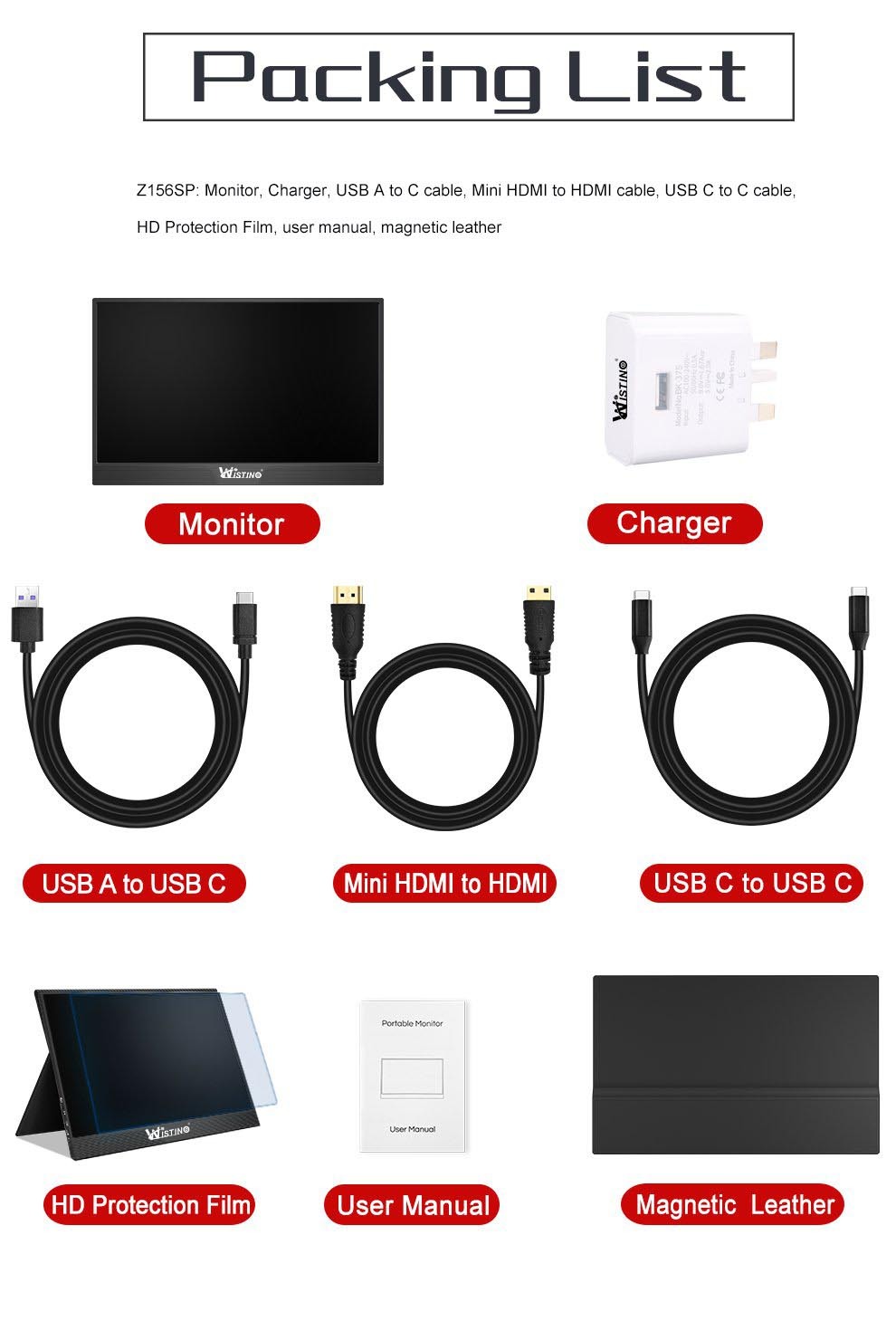 Specifications:
Brand

Wistino

Response Time

5 ms and below

Display Size

15.6

Resolution

1920 x 1080

Mounting Type

Desk Mount

Display Features

Full HD

Monitor Feature

1080p

Model

HZ-SCR-15.6

Warranty Type

International Manufacturer Warranty

Warranty Period

1 Year
What's in the box
1.Portable Screen*1 2.Original Leather Case*1 3.Multi functional Charger*1 4.Mini HDMI to HDMI Cable*1 5.Type-C to USB Charge*1 6.Type-C To Type C Cable*1 7.Wistino Aftersales Card*1
Recent Reviews ( 22 )
By
F***b
Wednesday, 06 July 2022
It is a good display for the money. Picture is clear and fairly bright. I would give it 5 stars .
By
M***f
Tuesday, 05 July 2022
Delivery fast and smoothly. The picture quality is very good, finish the back is metal, is very light and thin. To take quietly in the backpack.
By
P****w
Monday, 04 July 2022
Perfect for now I will test it as and as, the touch responds well, too bad that this function is not compatible with MacOS and iOS/iPadOS. The image is superb and the connection in Thunderbolt 3 that uses only one cable is great. The screen protector and the magnetic pouch, it works without worries. In short to see in time to use if it resists the road and the backpack
By
R****u
Saturday, 02 July 2022
บรรจุภัณฑ์ที่ดีปลอดภัยมาก คุณภาพดูดี ไม่หนักมาก แบบพกพามาก ฉันจะใช้สิ่งนี้กับหน้าจอสัมผัส Photobooth ของฉัน
By
K***v M***d
Saturday, 02 July 2022
จัดส่งและใช้เวลาเป็นสัปดาห์และบางงานมีความคมชัดสูง yo Nintendo Switch เชื่อมต่อได้ดี Busin Just qc3.0 charger
By
W****v L****f
Sunday, 26 June 2022
จัดส่งเร็วและบรรจุภัณฑ์และสภาพสินค้าดีมาก ขอแนะนำอย่างยิ่ง!!
By
T***d W***a
Thursday, 23 June 2022
ยืนยันการรับที่น่าพอใจ ขอบคุณมาก สินค้าดี แนะนำผู้ขายนี้
By
L***w K***a
Tuesday, 21 June 2022
น่าทึ่ง มันดีและบางมาก แต่ฉันลืมซื้อสายต่อสำหรับ Iphone/ipad เพิ่ม เศร้าจัง
By
O****v G***d
Monday, 20 June 2022
Cool) be sure to glue the protective film, which is included, but not independently and give the Masters. It's anti-glare, it removes reflection. The sound is not like from the Audi system 5.1, but for movies and yutuba it will roll to drink and tea)) the picture is not bad but on the laptop it is is is Matrix with wide viewing angles. There is an output to the headphones. Consumption 5 volt 990 Ma. The touch screen works fine, I recommend
By
I****b F****w
Sunday, 19 June 2022
Arrived quickly and well protected. The screen is of good quality and works perfectly just powered by a USB port of my PC. Only weak point, no On/Off button which makes the screen always on if you want to use it as a fixed monitor. Be careful, the various cables provided are quite short
By
Q***c A***n
Saturday, 18 June 2022
By
M***d B***d
Tuesday, 14 June 2022
Material very good screen is good quality it was delivered quickly connections please do very well between my Chromebook and this screen I recommend anything particularly.
By
Tait
Saturday, 12 February 2022
Great product!! It works as described. Recommend.
By
Tad Martin
Saturday, 15 January 2022
Monitor excellent. Already bought 3 this model and not regret.
By
Tave Sizemore
Thursday, 30 December 2021
Excellent Product, works perfectly and with excellent resolution.
By
Teddy Wilson
Saturday, 18 December 2021
Perfect screen, product quality. Super recommended! Will my PC portable.
By
Tacita Partridge
Friday, 17 December 2021
Good qulity. A good screen. Fast shipping. Thank you.
By
Tempest Bledsoe
Saturday, 11 December 2021
Very well packaged, screen quality is also very good. Much better than I was expected. Strongly recommended

Your cart is currently empty.